French Open: Daniil Medvedev and Paris? - "It will not be easy"
Daniil Medvedev doesn't see himself without a chance in Roland Garros - everything depends on whether he can find his way back to last year's game.
by Stefan Bergmann
last edit: May 18, 2022, 09:52 pm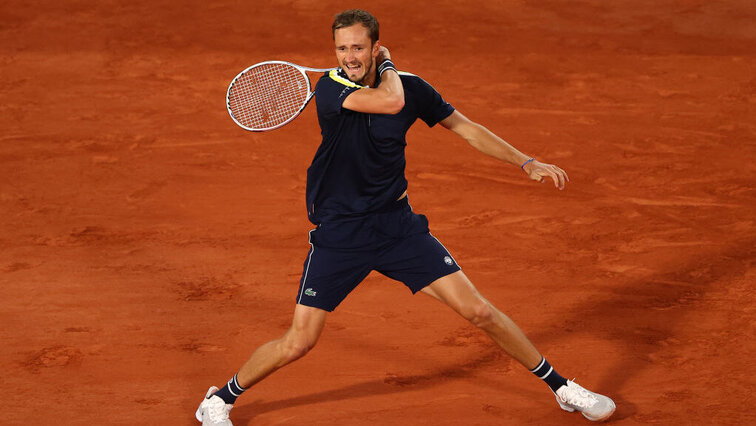 Daniil Medvedev was nominally number one at the ATP World Tour 250 event in Geneva - but the long break in the tournament and the hated sandy terrain did not necessarily mean that good things could be expected for the Russian even before the first rally. And well, what can one say, the man from Moscow agreed with this assumption. Medvedev lost to Richard Gasquet in straight sets in the round of 16 after a bye in round one. The Frenchman is now only 75th in the ATP ranking - so what can you expect from the 2020 ATP Finals winner at the French Open?
"It's difficult," said the world number two to ATP Media. He knows he is capable of getting good results, as he has done in the past. In any case, physically he didn't feel bad on the pitch on Tuesday. "I think with a few days of training I should be ready for Roland Garros because physically I feel very good - even now -" continued the 26-year-old.
Last year it wasn't until the quarter finals
He doesn't play on red ashes as catastrophically as Medvedev himself always does. After all, the East Slavic reached the final in Barcelona in 2019, where he was clearly inferior to Dominic Thiem in two sets. And last year the sand major in Paris only ended in the quarterfinals - a result that the tall right-hander has not yet achieved in Wimbledon, for example.
"I'll train for a few more days before Roland Garros, I'll try to work on my tennis in addition to the physical work. I hope I can find the game I played there last year. It won't be easy ", the US Open Champion 2021 remains cautiously optimistic. The Russian's true barrier seems to be more on the top floor on clay.