French Open sensation Podoroska doesn't want to wake up yet
With her semi-finals, the Argentine qualifier Nadia Podoroska made history at the French Open. Two and a half years ago she could no longer afford to travel to tournaments, her career was already coming to an end.
by SID
last edit: Oct 08, 2020, 12:38 am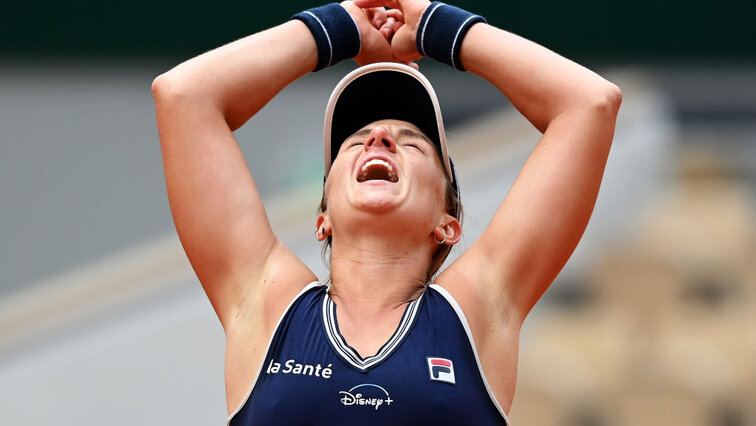 Of course, Nadia Podoroska's birthplace already promises great deeds. Finally, Lionel Messi rose from Rosario to become the king of football, and the famous revolutionary Che Guevara also saw the light of day in the Argentine metropolis. But that tennis player Podoroska should one day accomplish something historical, had not indicated much. And yet the 23-year-old has immortalized herself in the history books of her sport with her semi-finals at the French Open.
Podoroska is number 131 in the world, fought its way through Roland Garros' qualification and won a main round match at a Grand Slam tournament for the first time. But then pushing through to the semi-finals, no qualifier had succeeded in the history of professional tennis since 1968 in Paris.
After her quarter-final surprise against number three seeded Elina Svitolina, Podoroska was asked whether she had to pinch herself. "No," she replied boldly, "I don't want to wake up yet."
The dream trip in autumnal Paris should not end in the semifinals on Thursday against the 19-year-old Polish Iga Swiatek, who also expected very few there. There had never been a qualifier in the finals in the history of the four largest tennis tournaments in the world.
Even more than two years ago there was absolutely nothing to suggest such a fairy tale, on the contrary: Podoroska could not even have afforded a trip to Paris. She was out for eight months due to an injury to her right wrist, and the financial reserves no longer allowed for expensive tournament trips. The end of my career was not far off. "I had too many injuries and crashed in the ranking," she said: "That was the toughest time."
But Podoroska fought on and returned to the field in March 2018, turned everything inside out and parted ways with her long-time coach. She now lives in Alicante, Spain, and now she doesn't have to worry about money anymore. Even reaching the semi-finals brought her 425,000 euros into her account - in her entire career she had won almost 260,000 euros in prize money.
A win over Swiatek alone would add almost 400,000 euros on top. And Podoroska will also make a huge leap in the world rankings. She started the year as number 255 and will be in the top 50 after the French Open.
The Argentine tennis icon Gabriela Sabatini is already over the moon. "Thank you for continuing to cheer," wrote the 50-year-old on Twitter to Podoroska. Since her 1990 US Open victory over Steffi-Graf, Sabatini has been the only Argentinian Grand Slam winner in women's singles. She could have company on Saturday.
Here the single tableau of women
rg2020