Novak Djokovic is fantastic, unique, etc - but...
It's amazing how Novak Djokovic can still keep the tennis world in check in tournaments that are important to him.
by Jens Huiber
last edit: Jun 12, 2023, 05:06 pm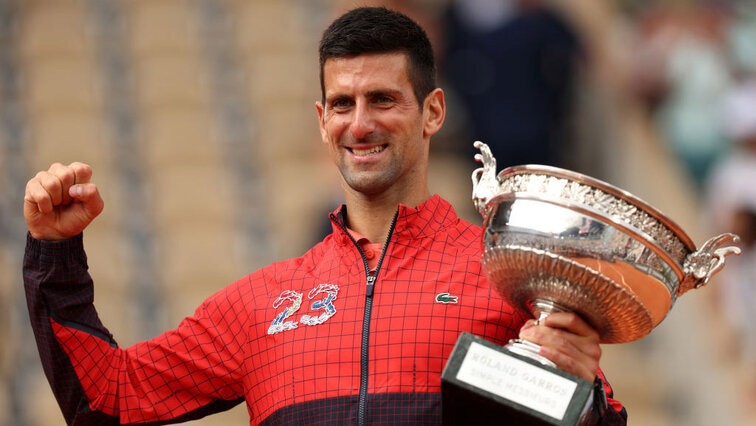 In American, people who trust themselves to tasks that they will certainly fail are said to have unwarranted self-confidence. Transferred to tennis, you could perhaps illustrate it like this: The number 61 in the world - whoever that is (Juan Pablo Varrilas at the moment) - goes on the court in a Grand Slam match against Novak Djokovic and is convinced of it that he can also defeat the Serbian grandmaster. Now the example with the number 61 was chosen completely arbitrarily (word of honor!), that it is Varillas of all things, but it fits quite well: Because the Peruvian naturally had no chance against Djokovic in the round of 16 at Roland Garros 2023.
The question is: Who would have one? Because two things have to come together: the belief that you can beat Djokovic. And then the skills - physically, mentally, playfully - to do it.
Looking at the last Grand Slam tournaments, the list of players who bring all this is extremely short: a completely fit Rafael Nadal (will we see that again?) is capable of it - and a Daniil Medvedev in top form . Not so long ago, Dominic Thiem could have been mentioned here. And no: Carlos Alcaraz has not yet provided proof of a major. Last year Djokovic was not present at the US Open. And the thing with the whole body cramps on Friday seems a bit strange: after all, Alcaraz had only ever had to do three sets before. And after the second set, which he also won, does the Spaniard suddenly get tense?
Other candidates are not exactly intrusive:
Alexander Zverev has already defeated Djokovic on big occasions (e.g. in Rome 2017, at the ATP Finals, especially at the 2021 Olympics); but at a major it was only enough for a narrow semifinals in New York City 2021.
Casper Ruud may have missed a few chances in the first set of yesterday's final. But that was probably simply due to the fact that he had to risk a lot more against Djokovic than against almost any other opponent. And high-risk tennis is not in the Norwegian's blood.
Holger Rune might have the guns and the confidence. But physically, he is worlds apart from Djokovic, just like on the mental side.
Stefanos Tsitsipas is a grateful matchup for Djokovic, the Greek is also struggling far too much with himself and players like Alcaraz and Medvedev.
Jannik Sinner? This is where the psychological component comes into play: Just like Tsitsipas, Sinner has not been able to turn a 2-0 set lead against Novak Djokovic into a win in a major. Not because Sinner got worse in Wimbledon last year from round three - no, Djokovic just raised his level again. Just like in the total of six tie-breaks in Roland Garros, in which he didn't make a single mistake without need.
So can the engraver in Wimbledon engrave the name of the number one in the world again from today on the list of winners? The short answer: yes. Only with a lot of imagination can you imagine someone who acts at eye level with Djokovic on grass. But well, here are two suggestions: Nick Kyrgios and Matteo Berrettini, the two men Djokovic defeated in the 2021 and 2022 Wimbledon finals. With the small footnote that both come back from injury breaks.
Novak Djokovic is fantastic, unique, you name it. But it's amazing that at his age he still dominates the tennis world in tournaments that are important to him (i.e. not Monte Carlo or Banja Luka) as he did in Roland Garros 2023.
rgmap