Roger Federer relieved after the difficult test in Dubai
Roger Federer raised serious problems with Philipp Kohlschreiber for two sentences - in the end, the maestro prevailed as the man who was more confident in the decision at his own serve.
by Jörg Allmeroth
last edit: Feb 25, 2019, 06:59 pm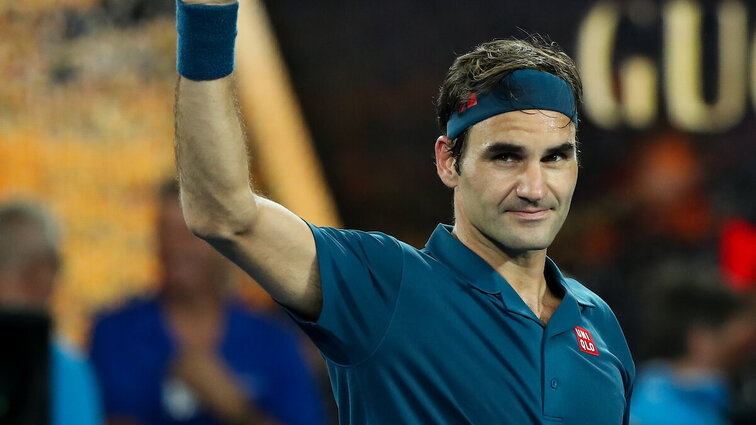 Dubai. When Roger Federer arrived at the end of his first-round adventure on Monday in the unadorned press room, down in the catacombs of the tent roof arena in Dubai, he blew out the air again. It was somehow done, this test against the strong, courageous Philipp Kohlschreiber - without the great shine, but with the important success, which was not a matter of course after another five weeks break in competition: "On such days it's all about survival - and nothing else, "said the 37-year-old Maestro after the highly tense 6: 4, 3: 6, 6: 1 three-piece game against his German rival," I only really got the curve in the third set. "
Gusty wind and the difficult space conditions made life difficult for the 20-time Grand Slam champion and his challenger, both of them had trained together in the daytime heat on Saturday under "completely different conditions", as Federer said. The seven-time tournament winner in the metropolis on the Gulf will now meet Spaniard Fernando Verdasco in the second round of the tournament on Wednesday. Kohlschreiber went against Federer with a 0:13 record, Verdasco has a 0: 6 interim report from the past almost two decades of joint travel with the Swiss. "Always a dangerous thing against Fernando. If he is in full swing, he can cause enormous difficulties for every player in the world, "said Federer.
Kohlschreiber turns up in the second act
Federer friend Kohlschreiber also had trouble at the rendezvous on Center Court, after the deserved loss of the opening set, the Bavarian turned up in the second act and quickly went 3: 0 in the lead. He held this lead against a suddenly seeming Federer until 5: 3, before the most dramatic game of the match started. Kohlschreiber awarded set balls, sometimes due to a double mistake, then he smashed his racket out of frustration, in the meantime served an ace with Breakball Federer with the second serve - it was pure entertainment, but with the worse end for favorite Federer. It went into the third set, not exactly to the delight of the 99 percent Federer fans in the packed stadium.
But Federer quickly calmed the nerves of his partisans, he immediately got Kohlschreiber's first service game to 2: 0 lead, made another break to 5: 1 and ended the match with an ace after 94 minutes as befitting. "It was damn hard to get into the rhythm, it was hard work," said Federer, "it feels good to be through now." And to have a day off before the Ü35 showdown with Verdasco, again in the evening on Wednesday under the floodlights in Dubai.