Roland Garros: This is how it goes on for the red-white-red qualifying starters
While JurijRodiono v and Dennis Novak go head-to-head in the second round of Roland Garros 2023 qualifiers, Filip Misolic takes on Italy's Andrea Vavassori. Sebastian Ofner plays against Jan Choinski.
by tennisnet.com
last edit: May 23, 2023, 12:40 pm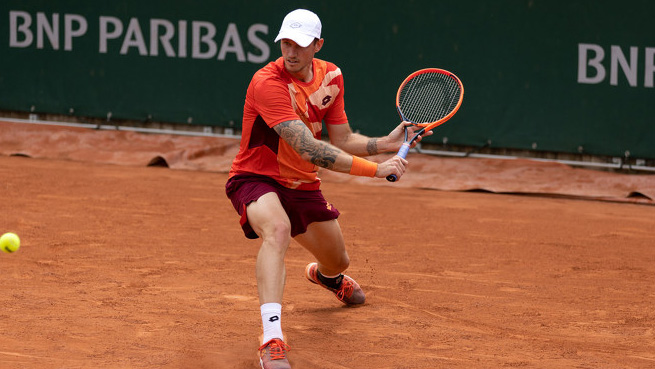 Such a rest day also has its charm. Especially for a man like Filip Misolic, who pulled off a real masterpiece at the start of qualifying for the French Open 2023. Misolic trailed 6-3 and 5-0 against local hero Enzo Couacaud. And actually managed to turn the game around. Which, in addition to the physical exertion, also took a certain psychological toll.
Now Misolic can play against Andrea Vavassori tomorrow, Wednesday. According to the world rankings, this is an extremely balanced duel: Misolic is currently in 142nd place, his Italian opponent six places behind. There are no benchmarks yet - Misolic and Vavassori meet for the first time.
Novak has already defeated Rodionov twice
Exactly the opposite is the case with Jurij Rodionov and Dennis Novak. Not only have there already been two matches on the ATP tour (Novak won in Kitzbühel in 2018 and 2019), they also know each other from numerous joint training sessions and various Davis Cup trips. Novak started 2023 strong by winning the Challenger in Nonthaburi, but was forced to rest from February due to injury. The comeback was in Mauthausen, where Novak was the first of three Austrians in a row to lose to eventual champion Hamad Medjedovic in the quarterfinals.
Jurij Rodionov has also immortalized himself as a tournament winner of a challenger this season, namely in Biel. In contrast to Novak, the left-hander also tried qualifying for the Australian Open, but had to admit defeat to Bulgarian Adrian Andreev in round two.
Ofner will follow suit on Tuesday
An Austrian will definitely reach the qualifying final. And there could be a real hit: if local hero Lucas Pouille were to prevail against Chun-Hsin Tseng. Full grandstands would then be guaranteed - just like Filip Misolic's first appearance on Monday.
Finally, Sebastian Ofner was the last of the red-white-red quartet to take the first hurdle. After the 7: 6 (0) and 6: 4 against the Japanese Rio Niguchi, the Styrian can now play against Jan Choinski, who starts for Great Britain. This match will also be a premiere - with advantages for Ofner in terms of paper form, who is currently number 118 in the world. Choinski, born in Koblenz, as number 177.
Here is the qualification tableau in Roland Garros
rgmap