Stakhovsky, Bastl, Brown: The biggest surprises in Wimbledon
The early rounds at Wimbledon have often produced results that have given UK bookmakers a headache. We once looked for five games in the men where we are still not sure how the results came about.
by tennisnet.com
last edit: Jul 02, 2020, 12:11 am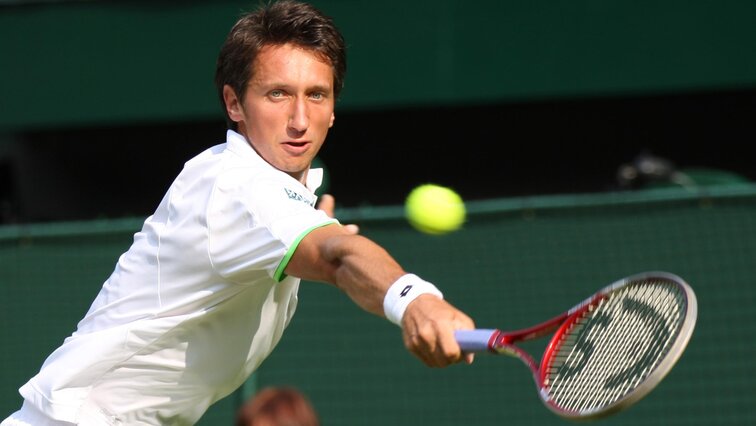 2002 - George Bastl vs. Pete Sampras 6: 3, 6: 2, 4: 6, 3: 6, 6: 4
No tournament victory during his career, a high in the ATP world rankings from place 71 - nevertheless the Swiss George Bastl made tennis history. When he faced Pete Sampras in the second round of the 2002 Wimbledon tournament - and beat the big favorites in five sets. Although Sampras had not won a tournament since his seventh (and also last) triumph in Wimbledon in 2000, there were no two opinions in advance about the alleged winner of the match against Bastl.
And even after the 0: 2 set deficit at the "Friedhof der Stars", Court 2, Sampras still seemed to be able to prevail. Bastl kept his nerve. And said goodbye to Pete Sampras from Wimbledon forever. The American resigned a few months later after his success at the US Open.
2015 - Dustin Brown vs. Rafael Nadal 7: 5, 3: 6, 6: 4, 6: 4
A home win in Halle / Westphalia may have been almost gold for Dustin Brown. In 2014, Brown defeated Rafael Nadal , who had just arrived from the French Open, after a dominant performance with 6: 4 and 6: 1. However, it was simply sensational that the German should succeed in defeating Nadal a little more than a year later in the major with the greatest prestige in the best-of-five format. Especially since Brown didn't even have to go the full distance. The record against Nadal thus remained immaculate - and still is today: Dustin Brown leads 2-0. And it certainly pays good chances against Nadal for a new reunion on the lawn.
2013 - Sergiy Stakhovsky vs. Roger Federer 6: 7 (5), 7: 6 (5), 7: 5, 7: 6 (5)
It is remarkable which players Roger Federer had problems with during his career: Tim Henman, for example, whom he only cracked in the later phase. Or Patrick Rafter, who retired with a flawless record against the Maestro. Both Henman and Rafter generally never stayed at the baseline for long, especially following their serve immediately. Which actually corresponds to Sergiy Stakhovski's approach. In the second round game in 2013, the Ukrainian also showed amazing patience. And took the big favorite out of the competition in four short sentences.
2003 - Ivo Karlovic vs. Lleyton Hewitt 1: 6, 7: 6 (5), 6: 3, 6: 4
The defending champions are honored to open the legendary Center Court in Wimbledon. And until 2003, if the previous year's winner was actually at the start, this always went well. Then came Ivo Karlovic, who, just two years after his fellow countryman Goran Ivanisevic celebrated his greatest success on that Center Court, said goodbye to Lleyton Hewitt in four sets in round one. In retrospect, this was not a big surprise: Karlovic won four out of six games against Hewitt, tortured the Australian even in Roland Garros for more than five sets (though lost). At Wimbledon 2003, however, Dr. Ivo got the upper hand after a poor first sentence.
1987 - Peter Doohan vs. Boris Becker 7: 6, 4: 6, 6: 2, 6: 4
Just a bad day in the office. Another reason why Boris Becker's second-round bankruptcy against Peter Doohan cannot be explained more than three decades later. Not only was Becker into the title two years earlier - he had mastered Doohan in the games before. Not least at the preparatory tournament in the Queen's Club in London, where the German won 6-2, 6-4. At Wimbledon, however, Doohan stopped Becker's run, which was to triumph a third time in 1989.