Vienna Padel Open: Marc Janko on an impossible mission
This Saturday the BOSS Vienna Padel Open 2023 started with the first day of qualification. Although the two domestic duos were not able to win, there was still a sense of achievement to celebrate. More than 500 fans created a great atmosphere in Arena 2 of the Steffl Arena.
by p.m
last edit: May 20, 2023, 07:44 pm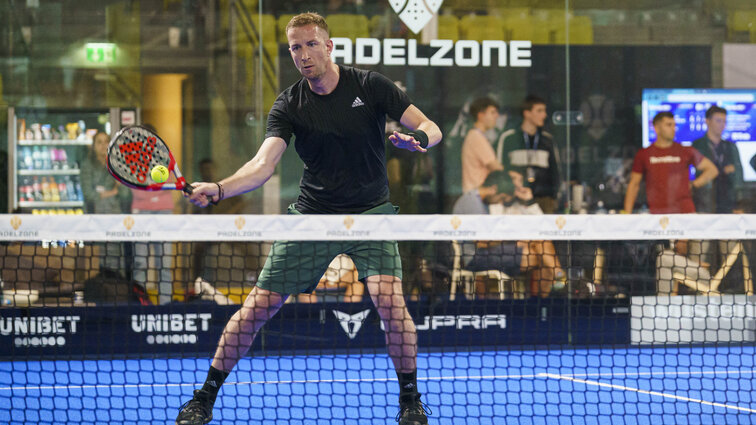 Marc Janko's eagerly awaited debut on the World Padel Tour (WPT) ended after 37 minutes. The Spaniards Rafael Mendez/Javier Martinez proved to be too strong as expected, the result was 1:6, 1:6. Janko and his partner Dominik Bierent provided some highlight points, but the Spaniards impressively underlined that they are in the top 65 of the WPT world rankings for a reason and have already been represented in the main competition several times.
"Better than expected"
"The goal was to make a game, so actually we were better than we hoped. It was the expected impossible mission, but we saw it as an experience," said Janko, despite the clear defeat. "They didn't play full throttle and still made the game more than clear. We can be very satisfied with individual points, there were a few highlight strokes. It was really cool to be able to experience that – thanks again for the wildcard and the opportunity."
After the game, tournament ambassador Janko was thanked for his efforts to keep the BOSS Vienna Padel Open growing: he received a voucher from tournament director Dominik Beier for a trip to a WPT tournament of his choice, including VIP tickets.
One thing is clear for Janko: he will come to the Steffl Arena more often over the next few days. "You can already see in the qualification what has been raised here. I can really recommend all people to come and experience this - I will definitely do it."
Krocker/Brus knock on winning the set
Markus Krocker and Michael Brus, Austria's second wildcard pairing in the men's qualification, held their opening game closer. After a tough fight, they were beaten by Exequiel Mourino/Alvaro Lopez (ARG/ESP) 3:6, 5:7. With a bit of luck even more would have been possible.
"It was a very good game from us. We wanted to enjoy it and suddenly we realized that something is possible. A few points decided it, at this level you simply can't afford weak phases," Krocker summed up with satisfaction. Brus added: "I've played many tournaments in Austria, but the atmosphere today was incomparable. We can be very happy because we sold ourselves dearly."
Three days with Austria participation
Austria's women will start qualifying on Monday: Sabrina Urban and Alexandra Pils will have to deal with the Spanish duo Ana Dominguez/Anna Ortiz on the Arena's Center Court from 11 a.m., before Barbara Brenner and Anna Schmid will have their luck against the Spaniards Mireia Herrada/Amanda Lopez will try.
In the men's main competition, the Austrians David Alten/Christoph Krenn will be allowed to play against the Spanish duo Toni Bueno/Jorge Ruiz on center court from around 6 p.m. on Tuesday. Finally, on Wednesday, the "Austria Day" at the BOSS Vienna Padel Open, the Austrians Rebeca Fernandez/Dawn Foxhall will compete against the Argentinian-Spanish pairing Virginia Riera/Tamara Icardo. The start is around 5 p.m. on Center Court After that, Rainhard Boisits/Kristopher Sotiriu challenge the Spanish-Argentinian duo Javier Rico/Leandro Augsburger.