A few more points? - The Challenger Tour 2022 is still running!
A few important world ranking points are still being played out for both the women and the men - even if they are no longer at the highest levels.
by Stefan Bergmann
last edit: Nov 29, 2022, 06:05 pm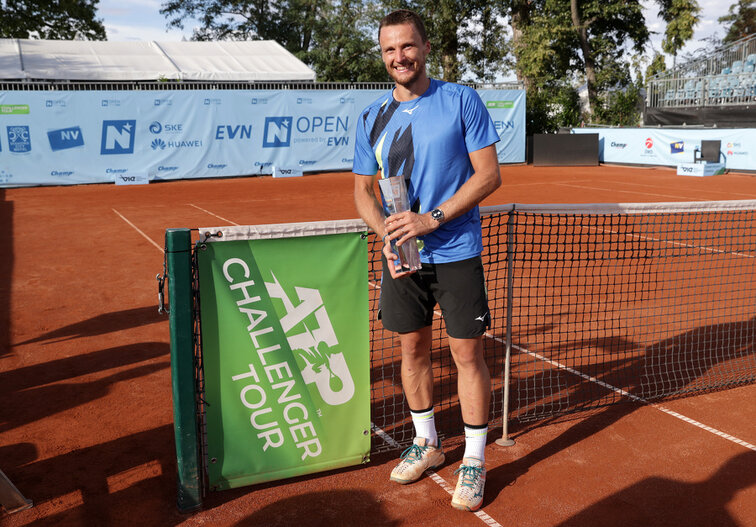 Yes, the finals events for men (Turin) and women (Fort Worth) have been beaten, the team competitions Davis and Billie Jean King Cup for 2022 have also been decided. However, professional tennis continues to be played, albeit on a smaller scale at ATP and WTA Challenger events and on the ITF men's and women's tours.
Well, the ATP Challenger Tour will be finished next Sunday, but until then some players will still be playing the 80s events in Maia, Portugal, and Maspalomas in Spain. While on the west coast of Portugal the game is played indoors on sand, the temperatures of almost 20 degrees on Gran Canaria even allow an open-air sand court tournament.
Rodionov and Neumayer still in the running
And players from German-speaking countries are also (were) represented at both events: On the Canary Islands, lucky loser Rudi Molleker failed conceivably in the tie-break of the third set by Italian Gian Marco Moroni, while in the round of 16 Timo Stodder (7: 6 [2 ], 6:7 [8], 6:1 over the Ukrainian Eric Vanshelboim) and the Austrian Lukas Neumayer (6:1, 6:3 against the Serb Miljan Zekic, ranked eighth).
In Maia, the Austrian Jurij Rodionov, ranked second, is in the second round after a 6:4, 6:3 win over the Czech Zdenek Kolar, the German Louis Wessels had 2:6, 7:6 (4), 1 :6 losing to fifth-seeded Australian Aleksandar Vukic. Viennese qualifier Max Neuchrist has his opening game tomorrow against wildcard local hero Joao Domingues.
Maria and Lisicki in Andorra
For women, WTA 125 Challenger tournaments continue for much longer. Yellow felt balls are currently being shot across the pitch in small Andorra. Comebacker Sabine Lisicki solved her opening task in the person of Sara Errani (Italy/6) with 7: 5, 6: 3, Wimbledon semi-finalist Tatjana Maria meets local hero Victoria Jimenez Kasintseva on Wednesday.
It then continues with two events in France: Angers will be played from December 5th to 11th, the indoor hard court event in Limoges will then also be the final conclusion at women's challenger level.
Here the single tableau from Maia.
Here the single tableau from Maspalomas.