Australian Open: Andrey Rublev clears up the fuss about the COVID-19 test
On Friday, Andrey Rublev cleared up the excitement surrounding publications that the Russian had traveled positively to Australia. Yes, a test before his departure was positive. But: He had previously completed a ten-day quarantine and the virus load was generally low and harmless to others.
by Michael Rothschädl
last edit: Jan 21, 2022, 07:01 pm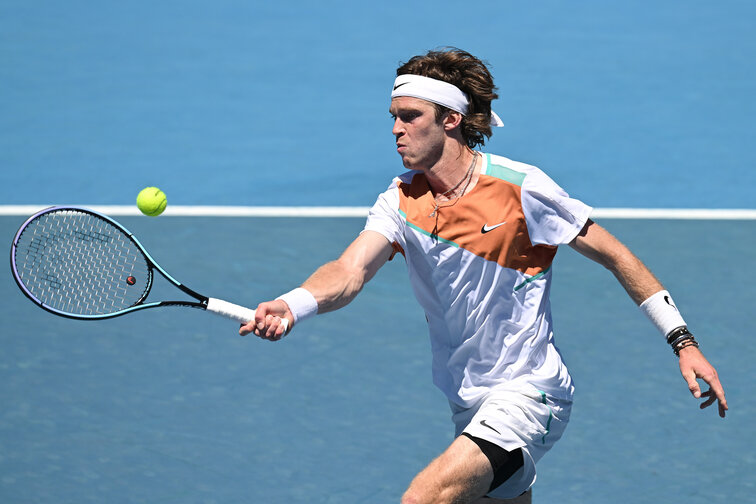 "When I flew to Australia, I was still positive, but I had a mild course and the viral load was low," Andrey Rublev told Sport Klub media. A surprising statement at first glance, especially given the posse that had developed in the days before the Australian Open around COVID-19 and the entry of Novak Djokovic.
In fact, these words only tell half the story, as Rublev now emphasizes in a statement: "Before I traveled to Australia, after the end of my quarantine, all my antigen tests were negative. It was also before my flight to Melbourne Test negative," Rublev explained. "The Ct level was around 35. It's not dangerous for others," added the Russian regarding his positive test before the trip Down Under.
Rublev in close coordination with Australian Open
So he, Rublev, had served his ten-day quarantine after the positive test result, but was still tested positive for COVID-19 shortly before leaving for Down Under. In these cases, Australia allows an exception, especially since the virus load in the Russian was harmless to other people. "I did all this in consultation with doctors and those responsible for the tournament. I didn't break any rules," Rublev explained.
"I would never endanger other people's lives," said the Russian. "I'm sorry that the information released sometimes loses its meaning. And that my previous story turned out to be very confused." In terms of sport, however, things are going perfectly for the fifth in the world rankings. In the first two rounds Rublev remained without dropping a set.