Australian Open: Monfils, Berrettini, Carreno Busta and the moment
Gael Monfils , Pablo Carreno Busta and Matteo Berrettini are currently making up the spot in the Australian Open semifinals that was actually reserved for Novak Djokovic. So far, the pressure hasn't played a big role in this trio. Will that change?
by Michael Rothschädl
last edit: Jan 21, 2022, 02:46 pm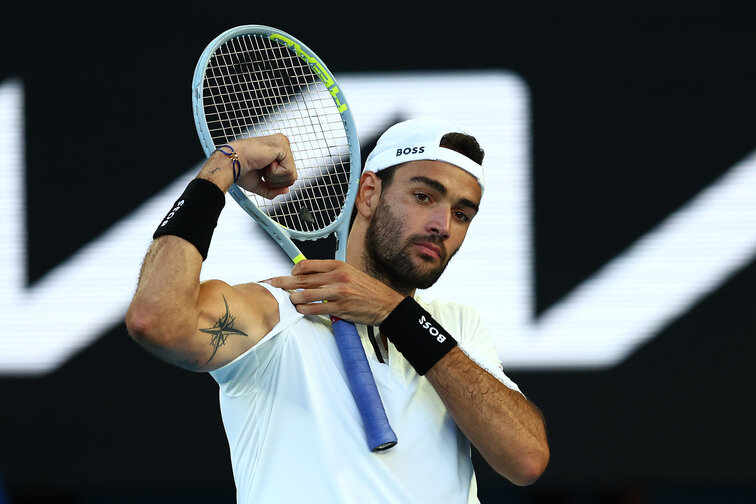 It was September 2020. A few hours after Dominic Thiem was only the second Austrian to win a title in a Grand Slam tournament. The Lichtenwörther revealed a remarkable circumstance in an interview: From the moment, Thiem said back then, when Novak Djokovic was disqualified after a shot in the direction of the linesman, the pressure was immeasurable. From that moment on, the 28-year-old realized that he wasn't just one of the favourites, he was the favorite for the title in Flushing Meadows.
A similar phenomenon - albeit in a slightly different form - is likely to have spread among Messrs. Gael Monfils, Pablo Carreno Busta and Matteo Berrettini. Namely, when it became known the day before the start of the Australian Open that Novak Djokovic would have to leave the country - and thus there was a huge hole in the draw in favor of the men mentioned at the beginning. Nothing less than the semi-finals at the first major event of the year beckons for these three men, who never really caused any big cheers at the end of the 2021 game year.
So Monfils & Co have cleared the first three hurdles. Miomir Kecmanovic, who seized the opportunity in the number one position and reached the round of 16 after beating Lorenzo Sonego, is considered a big outsider of this quarter for a place in the semi-finals.
Monfils on fire, Berrettini escapes from Alcaraz
Matteo Berrettini and Gael Monfils are currently the most likely candidates for a place in the semi-finals. While the former was able to fend off a general attack by Carlos Alcaraz on Friday and retained the upper hand in the tie-break of the fifth set , the Frenchman has been in a real frenzy so far. And is in the round of 16 in Melbourne without losing a set. Monfils had already won the title in Adelaide (1) in the run-up to the major.
So far, these three gentlemen have been able to fulfill their duty, if you will, with more or less stomach ache. Now comes the freestyle. Matteo Berrettini has to face long-running favorite Pablo Carreno Busta on Sunday, Gael Monfils has to deal with surprise man Miomir Kecmanovic. It remains to be seen whether the latent pressure in this trio will manifest itself as drastically as it did in Dominic Thiem 2020, which was quite obvious in the final against Alexander Zverev.
laver arena