Australian Open: Monfils, Millman lose dramas with announcement
The first day of the Australian Open brought some five-movement dramas. The victims: Gael Monfils and local hero John Millman .
by Jens Huiber
last edit: Feb 08, 2021, 11:47 am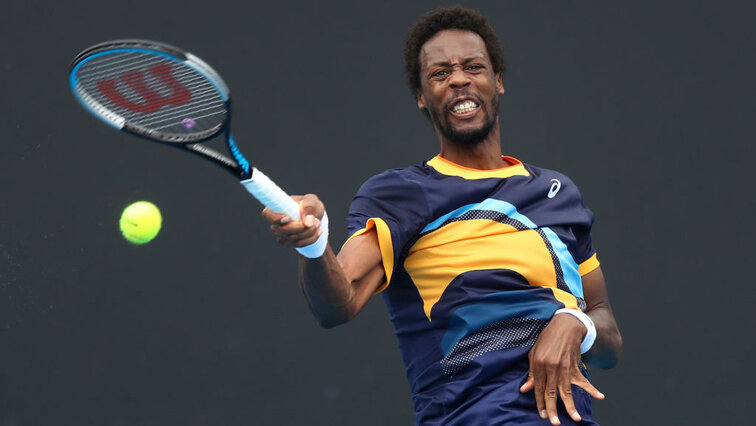 As if Gael Monfils and Emil Ruusuvuori hadn't seen enough of each other in the past few days: The French and the Finn made a couple during the two-week quarantine, after which they parted ways briefly. To bring them together again in round one of the Australian Open. And because there was time, Monfils and Ruusuvuori also played their entry fee.
aomonfils1
With the better ending for Ruusuvuori, who won 3: 6, 6: 4, 7: 5, 3: 6 and 6: 3. And so Gael Monfils' stuttering start extended into the 2021 season: At the ATP Cup, he had to admit defeat to Matteo Berrettini at the beginning, Monfils did not play for the scheduled match against Dominic Thiem. The trip to Australia was not worth it for the French veteran.
Moutet takes down local hero Millman
The best atmosphere in the early games of the Australian Open 2021 emerged in the 1573 Arena, where local hero John Millman and Corentin Moutet played as ordered: two fighters who do not serve their opponents from the court. It therefore came as no surprise that this match also went into a fifth set. Especially since Moutet is not a blank slate when it comes to marathons: At the French Open last year he was defeated by Lorenzo Giustino in the first round with 16:18 in the fifth set.
Something like that would not be possible at the Australian Open due to the rules, in Melbourne a tiebreak up to ten is played with a score of 6: 6 in the decisive set. Moutet didn't have to go that far: The left-hander got the break to 4: 3 in the fifth round. And didn't look back: Moutet won 6: 4, 6: 7 (4), 3: 6, 6: 2 and 6: 3.
#VIDEO#
Raonic and Wawrinka confidently
Marton Fucsovics also needed five sets to prevail against Marc Polmans, as did Jiri Vesely against Kimmer Coppejans and Dusan Lajovic against Sergiy Stakhovsky.
Milos Raonic and Stan Wawrinka had nothing to contribute to the drama department on the first day. Raonic, like Monfils at the ATP Cup last week, beat Federico Coria from Argentina 6: 3, 6: 3 and 6: 2. Stan Wawrinka, 2014 winner in Australia, had no problems in the 6: 3, 6: 2 and 6: 4 against Pedro Sousa. And Nick Kyrgios also celebrated a victory. The man from Canberra won against Frederico Ferreira Silva 6: 4, 6: 4 and 6: 4.
Here is the individual tableau for the men
laver arena