Australian Open: Philipp Oswald on the corona chaos - "It's crazy"
The Austrian Philipp Oswald is one of 47 players who have to go into a two-week hotel quarantine in Melbourne. Tennisnet.com reached out to the doubles specialist by phone and spoke to him about the turbulent hours after arrival, equal opportunities and the upcoming Australian Open.
by Nikolaus Fink
last edit: Jan 16, 2021, 07:37 pm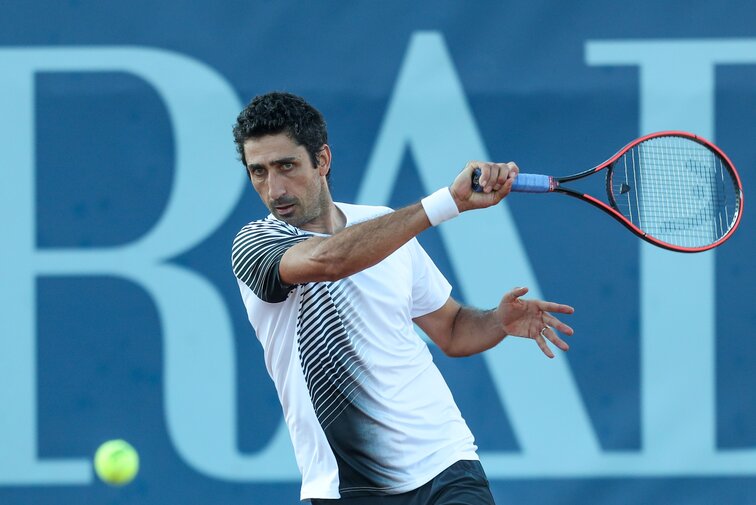 Mr. Oswald, take us with you on your journey so far. What has happened since you left for Australia?
Marcus Daniell (double partner, note) and I played at Delray Beach after we had trained together in Vorarlberg until mid-December. After the Australian Open was postponed, he decided to fly to his wife in America over Christmas. So it made sense to compete in Delray Beach. It was clear that three planes would fly to Melbourne: one from Los Angeles, one from Singapore and one from Doha. We were then in Delray Beach, but we didn't know exactly what our flight connection would be like - the Australian Open took a lot of time and the procedure was very complicated. During the tournament in Delray Beach we got the information that we would start in Los Angeles. We then had to see for ourselves how to get there. But then we noticed that a lot of players were leaving via Miami. This airport is only an hour's drive from Delray Beach. It was then a bit tedious to communicate. We were told that the planes had already been assigned. So we flew to Los Angeles and then slept one night at the airport so that we wouldn't miss the flight. The flight from Los Angeles to Melbourne was great, we had endless space and great service. It was a really nice flight. We started two hours late because Tennys Sandgren had a positive test and it wasn't sure whether he was allowed on board or not. In the end, however, he was allowed to fly because he already had Corona, was therefore non-infectious and the test may have been false positive. Upon arrival in Melbourne everything was great! It was strictly controlled and we noticed that Corona was taken extremely seriously. We got a new face mask and had to disinfect our hands straight away - so it was really special, but well organized. We then took the bus to our hotel, accompanied by a police escort, and everything was actually normal there. We then went into the room, which is okay too. Unfortunately, the internet doesn't work that well for me, it's really slow. It is said that multiple players feel this way because the WiFi is overloaded. The connection is a catastrophe for me and it is difficult for me to keep in touch with my family. You can only order food - we are not even allowed to have fitness equipment or books brought to us. I actually wanted to order a SIM card, but I'm not allowed to either. But then I saw that you can order SIM cards in the supermarket - where there is also food. It is allowed. I hope this works so that my internet situation improves. Yesterday I also did the test and didn't really think anything about it. Today I got the mail that our flight was practically contaminated and that we will all be locked up for two weeks now. That was of course a shock! It's amazing that we can't practice. The conditions in the quarantine are not world-class either, but somehow you understand everything. I understand that they are taking it very seriously because there are no cases in Australia and there is a fear that we will bring back Corona. None of that is an issue, but it is very tedious. I don't think it's entirely fair that a few players are allowed to train in Adelaide and we are barracked in Melbourne - especially the players who were in the two "Corona planes", of course.
You just had a call with Tennis Australia. What was discussed during this conversation?
Our situation has not improved. We won't be able to avoid staying in the room for the two weeks. The government is extremely strict. The people in charge explained to us how everything was organized and what a mammoth task it is. They also explained what the practice phases will be for the players who are allowed to practice. That is really time consuming! The players are divided into groups and are allowed to leave their rooms every five minutes. Whenever a group goes out, cleaners come afterwards to clean the corridor and the elevator. That is incredibly time-consuming. They told us that 1200 people are involved and they want to make it as safe as possible. The virus must not break out because they are also under a lot of pressure from the Australian population since the tournament is taking place in the first place. They have been more or less in lockdown for the last six months and there is the danger that this Grand Slam tournament will bring back the virus. That's what the call was about. They also want to equip us with additional equipment, but I suspect that it will be an ergo bike and a dumbbell - if I'm lucky. But that's not the perfect preparation for a Grand Slam tournament.
Was anything else discussed in the call?
They also said that two planes have been affected so far, but not all tests have been evaluated. So it is possible that a third plane will be added. It's also not entirely true that you can train five hours a day. You can play tennis for two hours, then the players will be forwarded directly to the fitness room. The athletes have to stay in it for 90 minutes. Half an hour before the end of the session, you have to place an order that will be served to you after your fitness training session. Then there is still an hour for dinner before it goes back to the hotel for 19 hours. So everything is very well planned.
However, you will not be able to enjoy tennis training in the next two weeks. How will you spend the next 14 days?
I don't know yet. I've found it tedious to wait in the room for a day or two for the test result. Now it's the case that I'm not allowed to play tennis for two weeks. I will make sure that I divide have some rituals during the days. I will do my exercises, meditate and eat at the given meal times. I will try to structure the day. Fortunately, I can tilt the window a bit, so at least I get some fresh air. I also have a relatively bright room. But it could be difficult that I have a perfect view of the tennis courts. So I can watch my opponents train for two weeks. I think it's going to be a little difficult mentally. But you have to go through it, it doesn't help!
You will compete in the Australian Open alongside Marcus Daniell. Have you already had contact with him regarding the tough quarantine? Given the difficult circumstances, what are your expectations for the tournament?
In the call, the tournament director (Craig Tiley, note) said that the schedule might be adjusted a little. But I have the feeling that he only said that to reassure the players who are in the tough quarantine. I know from the ATP - because I was in contact with the tour manager today - that everything is already so tight and that there is absolutely no room to move. Craig Tiley said that maybe everything will be postponed by a week, but then there will be other tournaments. It's not that easy. For us this is of course a major disadvantage. We have to make sure that we can make the most of it and somehow keep ourselves fresh in our rooms - especially in our heads. That will probably be the hardest part. Physically we will do a lot with our own body weight, a lot of strength training. You don't have much to choose from in the room anyway. I'm still playing the ATP Cup before the Australian Open. I will come out of quarantine on January 29th and it will start on February 1st. There is still a week until the Australian Open. I can't say much more now because it's all new territory. Everything is just crazy alltogether. Somehow it was also clear that something like this was coming. I and 99 percent of all players were not aware that if one person was positive on the plane, everyone would have to be put into strict quarantine. This is usually not the case. There were 17 charter flights and none of the planes was occupied by more than 20 percent. We had 67 people. I didn't think we'd all be locked up if a test was positive. But you never stop learning.
Among others, Alize Cornet also criticized the fact that everyone has to stay in their hotel room. She wrote on Twitter that the aircraft were divided into different sectors of ten people each and that it was originally said that in the event of a corona case, only these ten people and not all of the people on board would have to be quarantined. Can you confirm that?
I didn't hear that. But when I think about it, it makes sense. There were already different sections on the plane and it was made sure that the players sit far apart. When Sandgren got on the plane, I knew he was positive. He had mentioned this earlier in our group chat. Then all of a sudden he did come and I thought: "Wow, I can use that if he infects me now." But I thought that you would be safe if you gave a negative test after leaving the aircraft. I didn't think everyone would have to be put into a hard quarantine if one of the passengers is positive. That was never communicated to us - I looked at the fact sheet and the measures. Of course they left the back door open everywhere so that the Health Department would ultimately decide, but it sounded more like each case being looked at individually. That was not the case with us. Rather, they put the template on everyone and said that everyone is a potential threat to Australia. During a call in the afternoon that only the players from our plane were participating in, we asked if we could "test ourselves into freedom". According to the health organization, the incubation period should be up to 14 days, with the British mutation it may be even longer. It was a one-way street. Based on the arguments, it was immediately apparent that the government did not want to risk anything. They don't care what the food is like or how the internet works - they just don't want to risk anything.
When the quarantine is over, the ATP Cup is already on the agenda. Given the short preparation time, what do you expect from this tournament?
I will definitely support the team at the ATP Cup. I've been practicing well recently too, especially in Delray Beach. The conditions there were great. That was also the reason why we were there. I knew Melbourne could be tricky. The training conditions here are not the best, you are also restricted. I don't think I'll unlearn how to play tennis during these two weeks. I think I'll be of help to the team. For me this is also the light at the end of the tunnel. I know the ATP Cup and a normal life are waiting for me. I can move around freely and without a face mask, go to a restaurant again and spectators will be there again - only 50 percent, but 50 percent in Australia is still a lot. If you "survive" the two weeks reasonably well, then halfway normality and finally a feeling of life again await! We're looking forward to that. The Australian Open as a Happy Slam is one of the favorite tournaments for almost everyone anyway. I've never been to the ATP Cup, but I've only heard good things about it. And Dominic (Thiem, note) and Dennis (Novak, note) also compensate for the bad conditions that I have anyway. They have the best conditions in Adelaide and are allowed to train more than the people in Melbourne. Therefore, it should balance itself out again.
Could you elaborate on the advantages of players who are in Adelaide? It is said that they only have five hours of training time a day as well.
I'm not there, of course, but I know there has been a lot of discussion in the player chat. Conditions are much better in Adelaide. First, players were allowed to take a lot more staff with them. Medvedev and Zverev, for example, were only allowed to take two people with them, while Thiem, Nadal and Djokovic each came with ten people (exaggeration, note). They also have a gym in their hotel. So they don't have to do their fitness exercises during the five-hour period. You only have the five hours to play tennis. There was a huge discussion and the other players were also upset. It was then that Djokovic could understand that and wanted to be in Melbourne like the other players. One day later it was said that everything was already organized for him in Adelaide. It's not apples and apples here, but apples and pears - and I caught the sour lemon.
Keyword equal opportunities: The Australian Open starts on February 8th. Will it even be possible to be competitive in a Grand Slam tournament under these conditions? And do you also see a difference between singles and doubles in this regard?
In my case, I hope it can be done. Somehow I believe and hope that doubles will be easier. I imagine it to be more difficult in individual cases, because you don't get to your intensity at all for two weeks. In addition, you play in singles in the best-of-five format and in doubles you have two players on each site of the net. Of course, you have to be quick to react, but in singles it's really difficult to achieve the necessary fitness. For many singles players who now have to stay in their rooms, the tournament in the week before the Australian Open will be rather useless. It will be about becoming competitive. When it comes to equal opportunities, it has to be said that the truth is that there is no one hundred percent equal opportunities throughout the season. The top stars are always treated better. But they earned it somewhere because they bring the money and the whole tour lives off of them. Normally the players have no problem with this hierarchy, because it is about Rafa or Domi practicing at the best time on Centre Court. Now they are allowed to practice more. It's really unfair if you look at it objectively. But that's the balancing act that Tennis Australia has to manage. They wanted to please the top players so that they would even come. I don't know if all the players would have got on the plane if they had known that if one of the 80 passengers had a positive case, they would have to be put into a hard quarantine. I'm also not sure if Rafa or Novak would have come if they had the same hotel as we do. I'm not angry with Tennis Australia, I can understand everything anyway. In the end, we have to be happy that a Grand Slam tournament is even possible. There are special requirements in Australia, but I really hope it will be a cool event when we're all out of quarantine and the players don't get injured for failing to get themselves up to a competitive level. In addition, you are not even allowed to see your physiotherapist. Usually we are getting massages. Now you can only treat yourself in the room.
Thank you for the interview.