Because of no training pictures - Fognini, Shapovalov, Schwartzman and Co. in action
More than 70 tennis professionals are in strict quarantine in Melbourne. The rest of them are slowly daring to send a few training impressions into the world.
by tennisnet.com
last edit: Jan 21, 2021, 08:38 am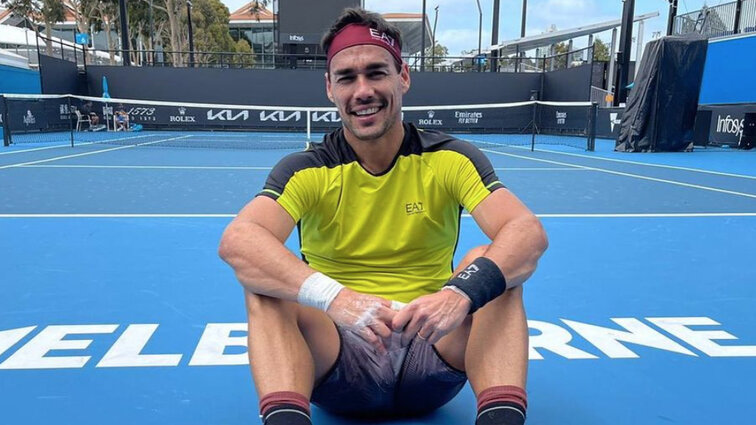 It doesn't help: Those tennis professionals who benefit from the exemption with regard to their quarantine, of course, also take advantage of the freedoms. In the last few days, the players have held back with short films from the training sessions, but now a picture, albeit a blurred one, of how things are going in Melbourne (so far there has been little of the elite group in Adelaide) to see).
Denis Shapovalov, for example, threw himself on a pack with Karen Khachanov . An interesting combination of two players who are still waiting for their breakthrough in Grand Slam tournaments. Shapovalov had good chances at the US Open in autumn 2020, but then let Pablo Carreno Busta boil him in the quarter-finals. For Khachanov, the past season was rather mediocre, the Russian finished in 20th place in the ATP world rankings.
Diego Schwartzman, on the other hand, is going to the Australian Open 2021 as the top ten man. The Argentinean can fall back on the 2014 champion in training week one: Stan Wawrinka , who has not yet lost faith in one last big hurray. And who represents the Swiss colors as a soloist in the absence of Roger Federer.
Félix Auger-Aliassime has been out and about in new clothes for a few days; the Canadian has joined the adidas family, as in earlier times. Félix's joy in playing is also evident in training, in the 2021 season, which really begins with the ATP Cup, the first tournament victory should finally come.
Fabio Fognini does not seem to have reached the big players when it comes to training. The mood is still right. In 2020 Fabio had thrilled in Melbourne, after two five-sentence dramas against Reilly Opelka and Jordan Thompson in round one and two, the now 33-year-old ran out of breath in the round of 16 against Tennys Sandgren.
Petra Kvitova has also sent greetings from a stadium, the Czech is making the next attempt towards her third major title. In 2019 she was close, but failed in Melbourne in the final against Naomi Osaka . Belongs to the above mentioned elite group in Melbourne. And at least reported with some art shots from the hotel room.