Emma Raducanu launches unusual coach call
Emma Radcuanu treads unusual paths in search of a new coach: After her defeat in Indian Wells, the 18-year-old called on all coaches to contact her.
by Nikolaus Fink
last edit: Oct 13, 2021, 12:15 pm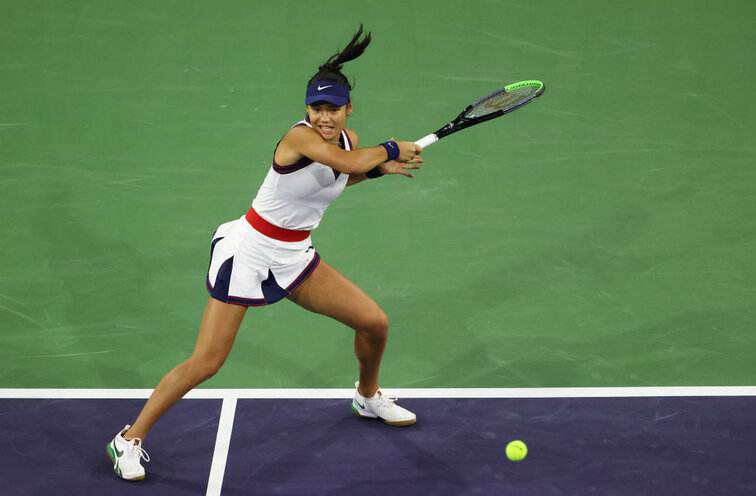 The first meeting after her separation from Andrew Richardson went anything but as desired for Emma Raducanu : Aliaksandra Sasnovich needed only 85 minutes in the second round of the WTA 1000 tournament in Indian Wells, thanks to the euphoria of the newly crowned US Open winner to put a heavy damper on a 6: 2 and 6: 4 success. "I will see it as a lesson so that I will have more experience in the future," said the 18-year-old after the game.
Raducanu also wants her next coach to have experience. Before the event in the Californian desert, the Briton had thought that she wanted to take her time looking for a coach, but after the end it sounded a little different. The world number 22 started via the media. Without further ado, an appeal: "If there are any experienced trainers out there looking, you know where to find me."
#VIDEO#
Anyone who believed in a joke by the teenager was immediately taught better. "It wasn't a joke: if someone knows an experienced coach ..." said Raducanu. In Indian Wells, she worked with Jeremy Bates, a women's coach for the British Association. However, given the statements made after the match, this collaboration should not be of too long duration.
Raducanu will make her next two appearances in Moscow and Cluj. It is still unclear whether she will come to one of these two tournaments with a new coach. This also applies to a possible appearance in Linz, Austria - this would only come about if the 18-year-old did not qualify for the WTA Finals.