Emma Raducanu will serve at the invitation tournament in Abu Dhabi in December
Emma Raducanu will be playing an invitation tournament in Abu Dhabi in December. The US Open winner is the first officially confirmed player in the United Arab Emirates.
by Michael Rothschädl
last edit: Oct 12, 2021, 11:05 am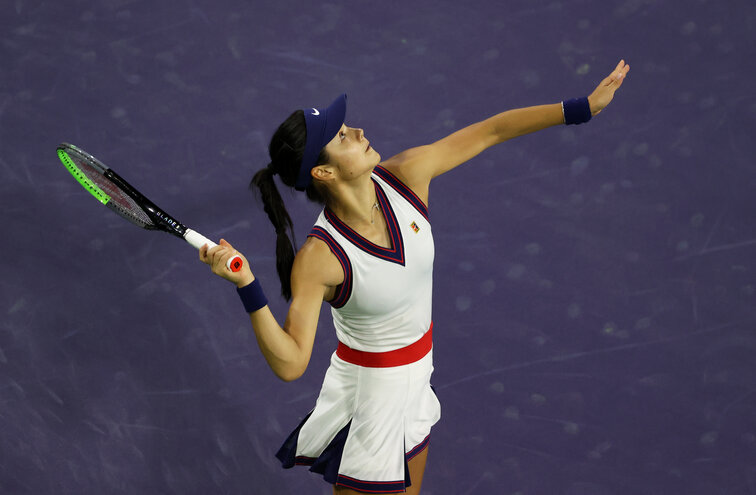 Even though Emma Raducanu's return to the WTA tour at the Indian Wells WTA 1000 event did not bring the desired results for the sensational US Open winner from 2021 to light, the lady from Great Britain can still enjoy an extremely increased public interest be sure. This did not pass by the organizers of the Mubadala World Tennis Championsship in Abu Dhabi. In any case, the organizers of the invitation tournament in the United Arab Emirates secured the services of the 18-year-olds.
The show event on the Persian Gulf is planned from December 16 to 18 at the International Tennis Center, Zayed Sports City in Abu Dhabi and is back on the tennis calendar for the 13th time after a year of absence. Although Emma Raducanu was confirmed as the first athlete for the show event, the focus in the United Arab Emirates is on the men's competition. The Briton Raducanu will only play a match on the first day. The opponent of the US Open winner should be announced in the coming weeks.
Thiem at the start for the men?
For the men, the event in Abu Dhabi could be given special attention, as Dominic Thiem announced a few days ago in an interview with the press that he would play his first match at the show tournament. A total of six men are going to start in the United Arab Emirates, who compete against each other in a knockout format, the game is played on three winning sets and according to the well-known scoring on the ATP tour.
The serial winner in Abu Dhabi is Rafael Nadal, who was at least ten of the previous twelve editions and last won the title in 2019. The Spaniard will probably be absent from the United Arab Emirates in 2021, as the Mallorcan already announced the end of the season before the US Open due to an injury to his foot. No player has yet been confirmed for the men's tournament.