French Open: fear for defending champion Iga Swiatek
Iga Swiatek had to retire in the quarterfinals of the WTA 1000 tournament in Rome due to a thigh injury. Is the French Open even shaking?
by Nikolaus Fink
last edit: May 18, 2023, 02:27 pm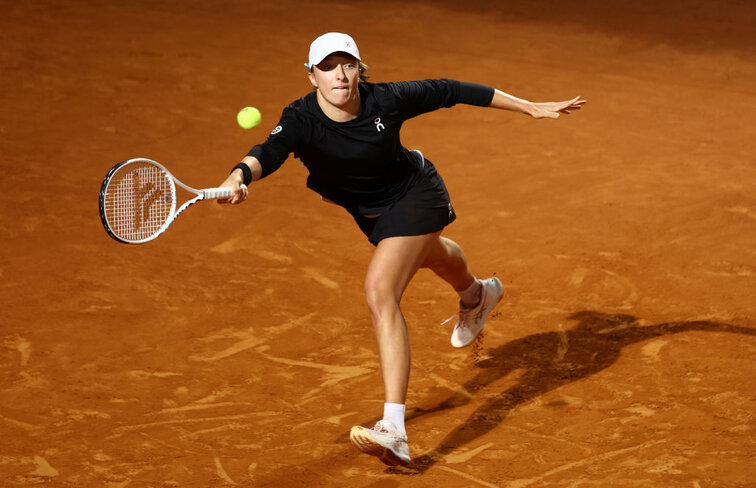 Iga Swiatek is in a race against time: Eleven days before the start of the French Open in Paris (May 28 to June 11), the world number one had to give up in the quarter-finals of the WTA 1000 tournament in Rome against Elena Rybakina. The three-time Grand Slam winner gave an injury to her right thigh as the reason for this.
How serious Swiatek's problems are is not yet known. On Thursday, the Pole spoke up via social media. "Hello guys. I'm sure you're thinking about what happened last night. We're checking it out right now. During the second set I sustained a hamstring injury. Diagnosis is ongoing. More info will follow in the next few days. I'll keep you posted," said the 21-year-old.
Swiatek, who won the French Open in 2020 and 2022, would be the top favorite for the title again this year in Paris. In preparation for the second Grand Slam event of the year, the world number one won the Porsche Tennis Grand Prix in Stuttgart, in Madrid she only lost to Aryna Sabalenka in the final.
Swiatek, who had won the clay court tournament in the Italian capital for the past two years, was also performing well in Rome until her injury. Rybakina, who will face Jelena Ostapenko in the semi-finals, wished the Pole well after her retirement: "Hopefully it's nothing serious for Iga. It's never nice to win like that."
rgmap