French Open: Iga Swiatek gives the all-clear for Paris
Breathe a sigh of relief at the world number one Iga Swiatek - After the injury-related task against Elena Rybakina at the WTA 1000 tournament in Rome, the defending champion spreads optimism for a start in Roland Garros.
by Dietmar Kaspar
last edit: May 19, 2023, 06:38 pm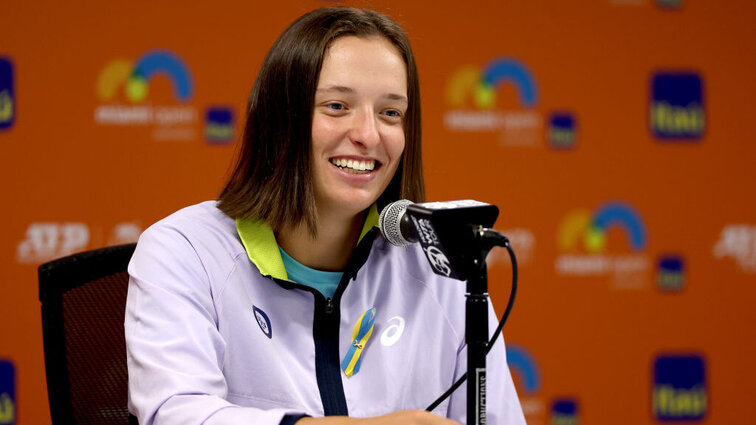 With a worried expression, Iga Swiatek had to give up in the quarter-finals of the Combined event in Rome against the reigning Wimbledon champion, Elena Rybakina, with a score of 6: 2, 6: 7, 2: 2 due to an injury to the right thigh. In the tie-break of the second round, she first grabbed her knee, then returned from the dressing room with a bandaged thigh after a medical time-out. "Basically, I had pain in my right thigh at the end of the tie-break in the second set. It came quite suddenly and I didn't really know at first if it was serious or not," the Pole said in a recorded statement to the WTA.
First sigh of relief after the match
There was relief after the match: "We then went to the physio for an examination. It shouldn't be anything serious. So I'm pretty sure I'll be back soon. I think it was the right decision to stop playing because I felt pain when I stretched when I did harder movements."
respect for the opponent
In the meantime, Rybakina has developed into the really big opponent of the 21-year-old Swiatek. Before the victory in Rome, the Kazakh defeated the world number one this year at the Australian Open and in Indian Wells. Swiatek saw the reasons for the defeat in the Italian capital as missing chances in the second round: "I was about to break but couldn't hold my serve to win the set. I had a lot of chances on Elena's serve later but she really fought back with great first serves."
Several days break for rest
A break of several days is not inconvenient for the three-time Grand Slam winner due to the busy tournament calendar. "In any case, I feel tired. In order to be ready for Roland-Garros I will take a few days off. Since Stuttgart I haven't really been able to recover with the tight schedule we have at the WTA. "So it looks like after Rafael Nadal's cancellation, at least for the women, the defending champion will serve again at the Bois de Boulogne.