Interview with Roger Federer - "It has been a wonderful journey over the years"
Roger Federer is aiming for his 100th title at the ATP Tour 500 tournament in Dubai. In an interview with Jörg Allmeroth, the Swiss looks back on his career and explains how he can motivate himself again and again.
by Jörg Allmeroth
last edit: Feb 26, 2019, 10:42 am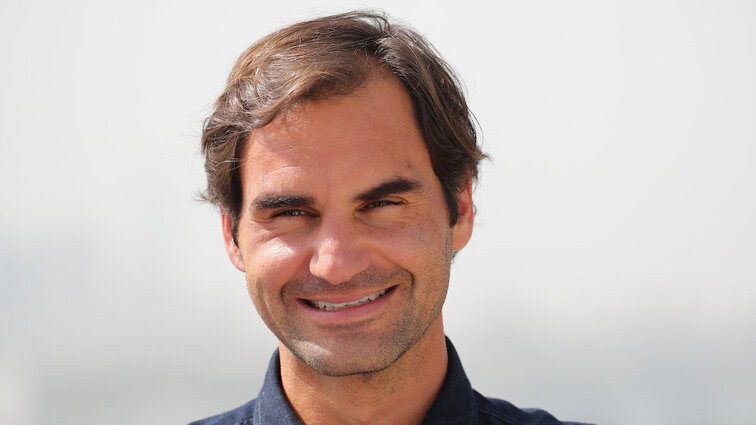 Mr. Federer, you are playing in Dubai this week, you are fighting for your 100th career title. It is your 22nd season in the Proficircuit since it started in 1998. How surprised are you to still be there?
Roger Federer : I consider it a gift that I'm still at the start. And that I don't just run along, but can still join in the top and win titles. Who would have ever thought that? At least not me. That was not something I believed in as a young player. It was thought that everyone over the age of thirty was very old. Ripe to stop.
Is there anything you specifically say: It was really crucial to play so long and so successfully?
Federer : Above all, you need this hunger to want to win again and again and again. You win a tournament once, twice, three times. And you want more. If at some point you become very satisfied, you cannot walk this long distance either. As a junior I was very moody, I also had problems with my parents because sometimes I didn't give enough for tennis. But it changed completely later. More than 20 years on the tour, kind of crazy now. But I still enjoy this life, the days on the tour, also because my family gives me the support I need.
Even if not every day can be a nice day. You lose, you experience setbacks.
Federer : That is accepted as part of this life, it is part of it, in every tournament all players except one winner lose. Basically and first of all you have to like what you do. And then you have to make sure that you take care of your body, protect it wherever possible. Of course, I was also extremely lucky that I was spared serious injuries and was not frustrated sitting on the outside line. But I also knew quickly: You have to train extremely well, always prepare first-class, you mustn't allow yourself a slouch. You just need a great deal of self-discipline and clarity in your work.
The material produces even more speed.

Roger Federer
Many successful players like to say that they have always reinvented themselves in their careers.
Federer : At first, I never had any trouble in my professional life to go to the training ground and complete my program. Secondly, I was always ready to try new things. This openness is part of the willingness to accept other, fresh ideas, to try other strategies, to bring new heads to the team. I think that was crucial in order to continue to be successful late in my career.
16 years ago you won one of the first professional titles here on the Gulf. What chances would Federer of the past have against Federer of today?
Federer : No great chances, I guess. The game has changed so much. It has become more dynamic, faster, and in a way more relentless. The players are all more athletic, well trained, the material produces even more speed. I just got better, I had to get better because there were always new challenges and new opponents. Tennis doesn't stop at this level.
If you look at the player fields from back then, they are almost the only ones left. Rainer Schüttler, one of his colleagues and rivals at the time, is now training Angelique Kerber. Ivan Ljubicic, whom you beat in the semifinals in 2003, is now your own coach.
Federer : Yes, I'm something like a last man standing. It was a different time, it was a different tennis tour. I am grateful to have been there for so many years, to have seen so many different people, types and characters. It has been a wonderful journey, with successes that I would never have thought possible. If you had asked me then, as a young boy, what I would be satisfied with at the end of my career, I would have said: Winning a Grand Slam title would be fantastic. And that was my honest belief. I didn't expect to be the best.
Now there have been 20 Grand Slam titles, many of them won over thirty. Even after an injury comeback that wasn't easy.
Federer : 2017, the Australian Open title after a half-year break, the longest break in my career, was an incomparable moment. More emotional than anything else. This victory also had to do with taking the time to return, making the right decisions with the right people. It also matters: You need a perfect environment for your life on the tour. As a professional tennis player, you should also be one - a team player in an individual sport.
There are many very short-term relationships between players and coaches in the industry.
Federer : I was always focused on continuity, it was important for me to operate with a familiar, well-coordinated team - whether coach, fitness trainer, physio. I was very lucky with all of my trainers, with the people around me. It is important to go through ups and downs together and stick together.
In 2017 and 2018 I was not ready to switch from hard court to sand on grass.

Roger Federer
You have decided to play on clay again this season, also to contest the French Open. Why?
Federer : Because I simply have the feeling that I can do this physically this year. It was different in 2017 and 2018, so I wasn't ready for it, just for this change from hard court to sand on grass. We talked to the team about it, it was okay for everyone. I wanted to get back on the pitch in the spring, that's what it was about.
Some interpreted the decision as follows: Before Federer's career ends, he wants to return to the largest clay court tournament.
Federer : No, that wasn't at all behind this plan. The question was: Do I want to play clay court tennis this year or not? And the answer was yes. Playing in Paris in 2019 doesn't mean that it must have been the last start there. There is much too much interpretation.
Novak Djokovic has won the last three Grand Slam tournaments. A year ago he was in a major crisis. How surprised are you at this turn?
Federer : I was actually always convinced that he would get the curve again. And then he answered the question of whether his best tennis would also be enough to win the top tournaments again. How he contested the last Grand Slams was more than impressive.
The speed of the rubbers was very much the same.

Roger Federer
They believe that it is easier today than before to win these various majors in series.
Federer : Look: In the past, every Grand Slam tournament had a more special character. The French Open was the classic clay court tournament where you had to fight your way on a slower surface. Wimbledon was a feast for the quick servers, for serve-and-volley tennis. Now the pads have adjusted in speed very much. Admittedly, the style of play is also more uniform. To put it bluntly, you can win at Wimbledon without ever being on the net.
Björn Borg, one of her fellow Laver Cup champions, won Paris and Wimbledon in a row in the 1970s.
Federer : ... and that was certainly a more difficult challenge than today. I am sure about that. But if Novak now had all four titles at once or won all four this year, it would still be an incredible thing. You don't have to cut corners.
It would also move closer to you, your 20 Grand Slam titles.
Federer : But this situation has been around for a long time. Only now does she regain consciousness. Are all these records forever? No. Every player out there has to accept that. It used to be said that Sampras' 14 titles could never be overhauled. Then I broke that value, maybe also because today it's easier to be successful with the different Grand Slams at the same time. At some point there may be someone who will overtake us all from this time.
What would the 100th career title mean?
Federer : It would be proof that I had put in a lot of effort over the years on the tour (laughs). I hope that I can do it soon and that you don't have to keep talking about it for a few months.