Sascha Bajin: "The clear goal is to win a Grand Slam tournament"
Sascha Bajin will start the new season with former world number one Karolina Pliskova. In an interview with tennisnet, the German coach talks about his new job, "toxic" comments on social media, "terrible" consequences of the corona virus and his two former employers Naomi Osaka and Serena Williams .
by Nikolaus Fink
last edit: Dec 07, 2020, 05:53 pm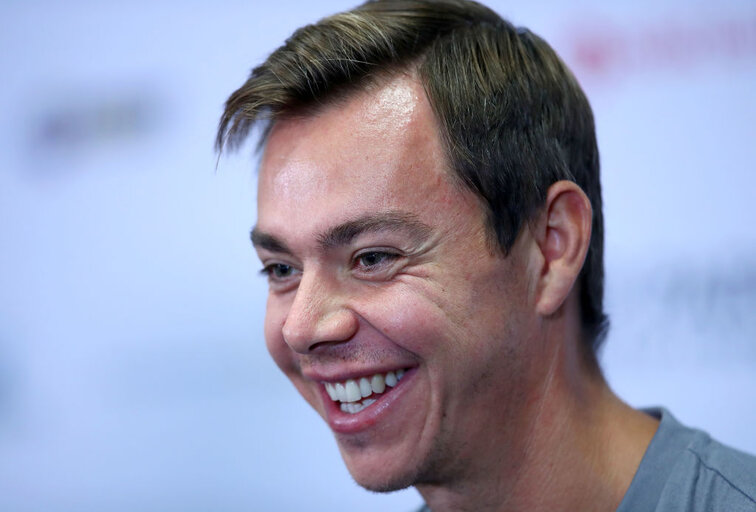 Mr. Bajin, let us start with the most important question: How are you doing in these difficult times?
I am currently in Marbella and I am doing just fine. I've been a little bit sick for the past week and had a slight stomach problem. I didn't have a fever, but a little nausea and of course you will be tested for Corona in times like these. Fortunately, the test was negative - it was probably just a gastrointestinal virus. So everything is fine so far.
Then we'll come straight to your new job: The news that you will be going into the coming season with Karolina Pliskova caused quite a bit of surprise. Can you describe how the collaboration came about?
I have had good contact with her husband Michal, who is kind of Karolina's manager, for a long time. After the collaboration between Dayana (Yastremska, note) and me ended after the US Open, the request came from him. I was in America at the time and it was a little difficult because of the distance, but we talked on FaceTime two or three times. Then I talked to Karolina too. We already know each other from the tour because she's been there for ages and so I wasn't a stranger to her. There are players on the tour with whom you talk a little more, but that wasn't the case with her before. So I didn't know her that well personally, but it actually went very easily and comfortably. I didn't put any pressure on myself because I've been there for so long and originally didn't want to continue on the tour straight away. It must also make sense for me to work with a player. I have to believe in her and feel that she can do something great. For me it is also important that I can help her with my way as a coach. I was then very surprised and happy that the request came from Karolina because she is a former number one and a big name. I am very honoured and grateful for this opportunity.
You mentioned yourself that your new protégé was already World number one, but she still lacks a Grand Slam victory in her CV. What has she been missing so far for the major triumph and on which points does she have to work to achieve this goal?
I don't think it's a secret: If you've won every other title on the tour and you've beaten all of the players before, it must be some kind of mental barrier that is keeping you from playing your best tennis in the Grand Slam tournaments. I think or at least hope that I can help her with this. If you've already been to the summit or have achieved something big, you know what it feels like. You can then pass this energy on to others. The trust in a coach who has worked with a multiple Grand Slam winner is a little different. The clear goal is to win a Grand Slam tournament. I hope I can help her with this. So far she may have put too much pressure on herself and hopefully we will stop that.
Have there been offers from other players?
There were offers from other players and also from men. That would have interested me too. I don't want to mention any names now, but a couple of inquiries from the men were really appealing. With the men, however, it is extremely difficult to get to the top because the top three or four players share the titles among themselves. As a coach, however, you have the goal of winning titles. That's why we do the job. I am now lucky enough to be able to train a player like Karolina. It's an awesome job because I'm keen to do something with her that she hasn't achieved yet. I think that's pretty cool. It was similar with Caroline Wozniacki. She had never won a Grand Slam tournament before we worked together. I wasn't with her at the Australian Open 2018, but that was always our goal. Then she made it two months after we had split up. That made me very happy. I just love when you have a clear goal. Karolina's goal is to work towards a Grand Slam victory and she has enough experience to do this. Now that I've coached two or three young players, that's a difference.
In addition to the mental aspect, Pliskova is also often accused of not having a plan B next to her power tennis. Do you see it that way and how will you work on it in the off-season?
Yes, of course. A plan B is very important - especially if you want to win a Grand Slam event. You can't play your A-Game for two weeks, that's impossible. Nobody has ever done this and it won't work. Maybe it was a bit like that with Iga Swiatek. She had the best run of her life at the French Open, so you can only take your hat off. Normally you need a plan B, maybe even a plan C. We're working on that and we want to see that she somehow manages to get rid of this mental block and play her best tennis in the most important moments. I want to achieve that with her.
Is there also support from a mental coach or is that primarily your part in the "Team Pliskova"?
That's mainly my job. I've also written a book on mental strength, and I think that's where my big plus point is. I keep saying that there are definitely 100 other coaches who might be able to explain better how to hit a forehand or a backhand - but not in the most important moments. If the third set is at 5:5, 40:30, you have to be able to explain to the player what she needs to focus on and what is important. The difficult thing is that it differs from player to player. Certain words or phrases help one player, but not another one - even though they have the same problem. My strength lies in the fact that I am versatile and adaptable. My coaching career has shown that so far. For example, I've had success with players from Belarus, Japan and Denmark. They're all different people, different characters. In addition, they were of different ages and different types of players. I have gained so much experience over the past 13 to 14 years and hope that I can help Karolina with it.
I just find it difficult to take responsibility for it.

Sascha Bajin on Dayana Yastremska's results after the Corona break
However, it didn't go quite as well at your last station to date. Why couldn't Dayana Yastremska take the next step with you?
Our year wasn't that bad. She played her first WTA final in Adelaide. On the way there, she beat Kerber, Vekic, Sabalenka and Babos - that was an incredibly good result for us. Then came the corona phase, in which we did not prepare together. I didn't see her for six months. We couldn't work together during that time and then of course it becomes difficult. I am a coach who likes to be with his protégé all year round. There are many players who want a coach for only 25 weeks a year. This is especially the case with men. I don't want that. The best request could come. I want to take 100 percent responsibility - regardless of whether it goes well or bad. I went to the US Open and Cincinnati with Dayana (the tournament was also held in New York, note), but if I don't see her for six months, that's not my work.
So was the Corona interruption the main reason for the not ideal season?
I just find it difficult to take responsibility for it. But even in this situation I learned a lot again. Overall, I didn't think the season was that bad.
You split up after the second round at the US Open. You then wrote on social media about different paths that you had followed on the way to your common goal. What exactly did you mean by saying that?
It was about how we saw her game. I wanted to see certain things from her and thought that things "A-B-C" would help her. She thought that we were more likely to advance with "D-E-F". I don't even want to say which aspects I mean by that. I am not claiming that I am right either. We just saw it differently and didn't agree on the priorities. Then it is difficult to continue working together. Dayana has incredible potential and I still think very highly of her as a player. I believe and also wish her that at some point it will "click". She will be successful when she knows what is important to her.
A tweet from you after Yastremska's third round match at the Cincinnati tournament caused a stir, in which you congratulated your former protégé Naomi Osaka on her victory and described her as a "better player" that day.Yastremska was anything but happy about it . Did the relationship suffer as a result or was this tweet even one of the reasons for the breakup?
No, I just don't want to believe that. I don't want to say much about this subject now either, because for me it's not worth mentioning. Maybe Dayana was a bit annoyed because I congratulated Naomi of all people. But I always do that. I congratulate the other team, but maybe it bothered her a little more. But that was not the reason for the breakup. As I said, it was more due to the different approaches.
Still, does social media make it more difficult for players and coaches to work together?
Yes and no. I have to honestly say that I hate this social media fuss. I just can't have that right now. I've been on Instagram for two years and made maybe 20 posts. I do not like it at all. There are so many people who write on Twitter that I swap my players more often than a normal person changes his socks. "Something can't be right with him, he must be crazy" - I get to hear that. Neither of these people has ever talked to me for five minutes. They don't understand that one of my players was pregnant (Victoria Azarenka, note) and one was injured (Sloane Stephens, note). Caroline didn't want to continue with me back then. These were all decisions made by the players. It's a bit annoying if you don't know how to deal with it on social media. In the meantime I have learned that I shouldn't be touched by that anymore. I do this out of respect and because it's part of the job to congratulate people after defeats. You wish your opponent all the best. But even now I would say to Karolina that I am proud of her, for example. I actually want to share that with the world because the people who follow me or tennis players on social media are our viewers. They turn on the TV and buy tickets. That's why I'm doing this. I would also like to do a lot more if it wouldn't be so disgusting to be there. People get you down! For example, when I was in New York and wrote something about George Floyd, I got torn apart in the media. The tweet was completely misunderstood. That's why I'm not a fan of social media.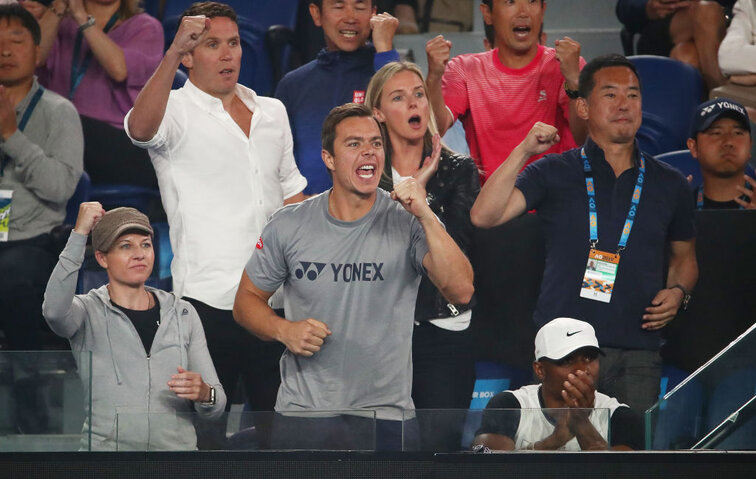 In the Corona period in particular, however, the power that social media has became apparent. For example, many players received updates on upcoming tournaments via Twitter and criticized the poor communication between the ATP and WTA. That was also a point you made back in March after Indian Wells was canceled . In your opinion, how has communication with the WTA and the Grand Slam tournaments developed over the months?
I have to say that communication has gotten a lot better. At the US Open, for example, I found it bad and strange that I found out on Twitter that Benoit Paire had tested positive for the corona virus. We were all in the same hotel. I asked and was told that no medical information should be shared. But I would have liked them to have informed us somehow, because communication is really important. It's also one of the few reasons I'm still on Twitter. Except for such information and toxic comments, there is nothing there.
The poor communication is also one of the biggest criticisms of the players. This is one of the reasons why the PTPA was founded a few months ago. What do you think about this project?
I support what is good for the players. But I don't know enough to have a real opinion on this subject. I would have to sit down with a tournament director and a supervisor to have their point of view explained to me. I don't know them exactly. I know why the players are annoyed because, as a coach, I'm in the same boat as them. That's why I support what helps the players.
It was repeatedly said that the PTPA should also be opened to women in the future. Did you talk to Karolina Pliskova about it? What is her opinion?
I haven't talked to her about it yet. We are in the third week of preparation. We talk about forehand, backhand and footwork. There is not much time to discuss other things. We're dead tired every night and there's not much to ask other than when the next workout is and what to eat for lunch and in the evening. That's it.
In general, I think that we need to simplify the ranking system for the fans.

Sascha Bajin wants to make tennis more attractive for spectators
At the moment there seems to be a rapprochement between women and men in tennis.In April, Rafael Nadal and Roger Federer, among others, spoke out in favor of a merger of ATP and WTA . How do you feel about a possible merger of the two players' unions?
Unfortunately, I don't know enough for that. I don't want to give an opinion if I don't know all the backgrounds. I don't know how much ATP and WTA earn, what costs they have and so on. There are tens of thousands of factors to consider. Unfortunately I can't comment on this topic because of that.
But let's stay political for a moment.Starting next year, women's tournaments will be named the same way as men's . However, the fact that the points for a tournament win will not correspond to the tournament category caused some confusion. For example, in a WTA 500 event you will get 470 points for victory, in a WTA 250 tournament 280. Doesn't tennis destroy itself through such absurdities?
In general, I think that we need to simplify the ranking system for the fans. Previously there were Tier I, Tier II and Tier III categories, now there are the tournaments you mentioned. Even I have to see what's going on with the events and update myself about the points. I don't know why they did that. I don't care too much about it though. For me it is important that my player is ready to get the 470 or the 280 points. My job is to prepare the player for this, but of course it's a bit confusing. I don't know if it bothers the normal fan, but it's irritating for us.
The WTA did not perform too well in the Corona period, too. While the tournament schedule on the ATP tour in autumn was somewhat normal after the French Open, only the events in Ostrava and Linz took place for the women. Why didn't the WTA manage to enable the players to play in tournaments?
I don't exactly know the reasons. Again, there are many factors that need to be considered. You can't just have a tournament so easily. All of this has to comply with the regulations of the respective country - especially during the Corona crisis. Therefore, certain things were really not that easy. For me personally it was pretty good because I have a longer pre-season with Karolina now. She's a new player to me and I didn't know her too well before. Karolina played in Ostrava and then had a three week break. Now we're here in Marbella and we're already practicing again. In the end, it was okay for us.
The lack of tournaments also hits players and coaches hard. A few months ago you said that you were doing fine financially, but that is probably different with many of your colleagues. How big is the damage of the coronavirus for tennis?
It is really awful! I still have a lot of friends in Munich who give tennis lessons. That's no longer possible now because the halls are closed. There is nothing you can do. I am incredibly grateful and happy that I have some money on my side and that I don't have to worry about how long the lights can stay on in my house tomorrow. There are enough coaches - even on tour - who have problems. You don't earn that much if you are the coach of the world number 40. When you're on the road, you don't earn so well that you can't do anything for six months. I am alone, I have no children, no wife. Maybe that's why I'm a bit cheaper in the overall package. I don't have to take care of a family. It's different with some coaches. That makes a huge difference.
The coronavirus has also hit amateur sports enormously, with many young people no longer able to do their sport in their free time. Is there a risk in tennis that a generation of players will be lost due to COVID-19?
I believe that can happen easily. I notice it in my niece, for example. She is ten years old and not in the BTV squad (Bavarian Tennis Association, note). She does it a bit on the side, but really wants to play. She plays tennis three or four times a week, but school takes precedence for her. So my sister didn't want her to go to BTV. Because she is not there, she is not allowed to play tennis for a very long time - except outside. But it has not been possible to do this for two months because the courts are no longer playable. Many children will lose interest during this time and will not even start afterwards. I am very sure that some good talents who could really have achieved something will unfortunately disappear.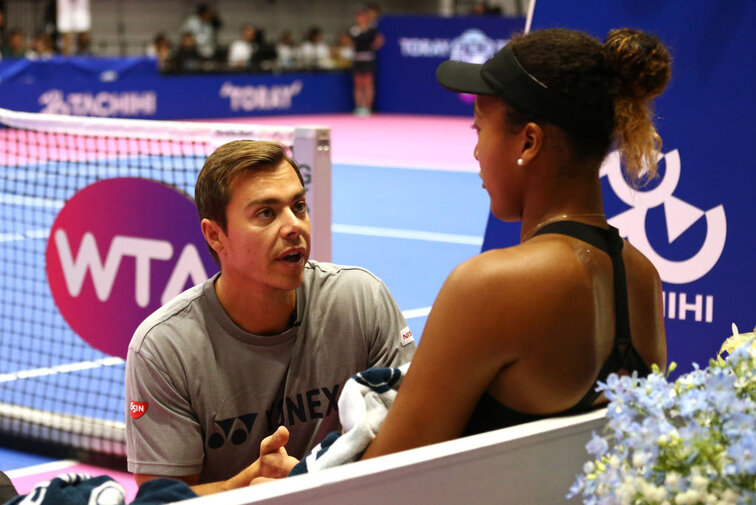 For the professionals, the tour will probably continue in Australia. According to media reports, they are currently planning a start on February 8th. What is your latest state of affairs?
Unfortunately, I can't reveal that. I even got an email on that matter. There you can see it: A lot is possible with good communication. We will be kept informed, but we are not allowed to reveal anything about developments in Australia. I'm sorry.
No problem. According to reports, it should at least not look too bad.
We will stay positive.
With this in mind, is there any plan for the first two months of the upcoming year? If so, what does it look like?
I don't know if there will be a tournament in January. Most of the professionals will be in Dubai then. I saw that there will be six, seven, eight players there. There are also many flights to Australia from Dubai. Our goal is to go where there are a lot of players. You can then play ten training matches in a row. That would be more than one or two tournaments. We will train, play matches and then analyze. When the Australian Open comes up, we'll fly there and hopefully win the Grand Slam.
Does that mean you will definitely be in Australia?
If the tournament takes place and God and Karolina want it, I'll be there. I've kept January and February free so far (laughs). The goal is also to work with a player in the long term. I hope that the time has finally come.
I think he can do a lot more.

Sascha Bajin believes compatriot Alexander Zverev has a lot more to offer
Your memories of Australia could well be worse. In 2019, you celebrated a great success at the side of Naomi Osaka with the triumph in Melbourne. At that time, she acted rather shyly, at the US Open 2020 she then vocalized in the fight against structural racism in the USA. How do you see her development, especially off the court?
Naomi's development is amazing. When we started, it felt like she was afraid of the whole world. She was afraid of what the outside world would think of her - especially when she wasn't playing well. She thought too much. I told her there was nothing to be ashamed of or to be afraid of. We then played little games in the training sessions, after which I made a fool of myself when I lost to show her that she has nothing to be ashamed about. Once you play tennis badly, you don't have to think about what the audience is thinking. It doesn't matter at all. You have to focus on yourself. I think it's nice to see how she has developed and that she uses her platform to draw attention to important topics. I've always believed that her mindest on the court is the biggest obstacle. For me, things always start off the court. What you have off the courts, you will take into a match. You can't be in a bad mood and then all of a sudden go happily into a match. Things start off the court and you then carry them along with you. When walking through town, I told Naomi to not be looking at the ground, but straight ahead. She didn't have to look up or watch left or right. I tried to open up the world to her a little. I am pleased that we succeeded.
Of course, an interview with you cannot end without naming your longtime boss, Serena Williams. Will she get the long-awaited 24th Grand Slam victory at some point?
It's getting harder. A second is a second for everyone - unfortunately even for someone like Serena. The older you get, the greater the toll it takes on you. But as long as Serena can go on the court and hold a racket, I believe she can win the 24th title.
Speaking of Grand Slam titles: Your compatriot Alexander Zverev made a big leap in the major tournaments and almost triumphed at the US Open. How do you see his development and what could he achieve in the coming years?
His development is incredible. I'm very happy for him. I'm a fan of his and I like the way he plays. I hope the US Open gave him the confidence he needs. He's very athletic for his size and I think he can do a lot more - especially on hard courts that are getting faster again. That should suit his game.
If we are already looking into the future: What will the top 3 of the men's ranking look like at the end of next season?
I say that Novak Djokovic will be ahead of Dominic Thiem and Daniil Medvedev.
And with the ladies?
If I don't say Karolina now, I'll shoot myself in the foot. I say that Pliskova will be number one and I firmly believe that I can help her. Now I have to be careful. I don't know about the spots two and three. I'm only interested in position one and I hope that we'll be there. But that shouldn't sound cocky (laughs).
Thank you for the interview.
The interview was conducted by Nikolaus Fink