WTA: Julia Grabher in the tennisnet interview - "That's exactly what I was working towards"
With her victory at the WTA Tour 125 tournament in Bari, Julia Grabher has reached a career milestone: a place in the top 100. In an interview with tennisnet, the Vorarlberg native summarizes the week in Bari and is optimistic about the upcoming tasks.
by Jens Huiber
last edit: Sep 12, 2022, 08:43 pm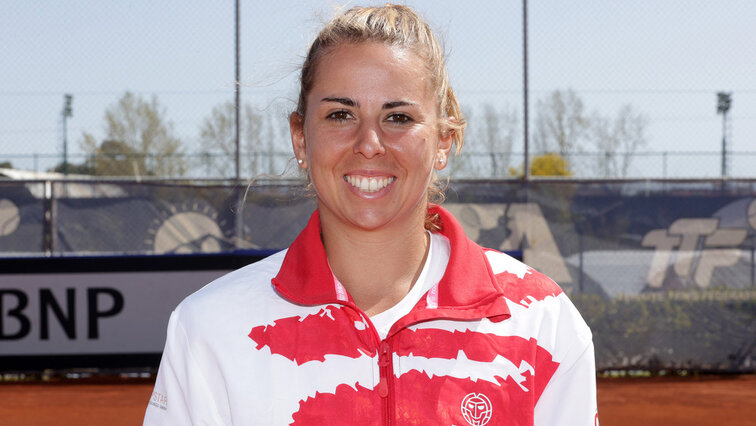 Julia Grabher celebrated her biggest career triumph in Bari on Sunday, winning the WTA Tour 125 tournament there. The Vorarlberger made it into the top 100 of the WTA world rankings for the first time, currently in 97th position. The 26-year-old from Dornbirn has hardly had time to celebrate: the next performance in Bucharest is already scheduled for today, Tuesday. Before that, Grabher took a few minutes for tennisnet.
tennisnet : Congratulations, Ms. Grabher. Biggest tournament win, entry into the top 100 - were you able to reward yourself a bit on Sunday evening?
Julia Grabher : Thank you! Of course, the title made me extremely happy. And the top 100 is something even more special. That's exactly what I've been working towards. I had a good meal with my touring coach Philipp Lang in the evening - but it's on to the next tournament.
tennisnet : Isn't it a shame that there is actually no time to enjoy success?
Grabher : It's simply part of the life of a tennis pro. You're used to playing a tournament almost every week. And winning on Sunday just gave me more motivation to take my good form with me and show what I'm capable of at the next event.
tennisnet : Your approach to the top 100 took place step by step in this tournament in Bari. At what point did you have that on your own?
Grabher : I didn't do the math myself, but I heard about it from the media. And then I was very nervous before the final because I knew what I could achieve: It's about the first WTA title and the top 100. That was a huge goal of mine over the last few years. I was all the happier that I managed the tournament so well.
"I trained a lot and hard with Günter Bresnik"
tennisnet : In the semifinals you were almost unstoppable after the 3-0 in the first set, and you also won the final easily. Did you feel that nobody will beat you in Bari?
Grabher : I played well from the first round, but it always took me a game or two to get into the matches. In the semifinals it was just three. After that I played really, really well, dominating the games. And Reka-Luca Jani, my opponent in the semifinals, was in really good shape and had won a tournament the week before.
tennisnet : How important was the win against Panna Udvardy in the quarterfinals, number one in the tournament?
Grabher : I know that I can win over all the players who started in Bari. At the beginning of the year I already beat a few top 50 players. But of course I didn't expect the title at the beginning of the tournament.
tennisnet : If you remember the beginning of the season: What was the goal for 2022?
Grabher : The top 100 goal has been around for a long time because it means that you also get into the main draw of the Grand Slam tournaments. First of all, I want to establish myself there. But, of course, you can continue to work your way up.
tennisnet : How do you determine the good form of the last few weeks?
Grabher : I trained a lot and hard with Günter Bresnik. And that hard work is now paying off. You can't take a shot out of that now. Above all, I saw at the beginning of the year that I can beat the top players. That makes a huge difference in your head: that you have the conviction in every match that you can win it.
tennisnet : How much strength did last week take? Especially with regard to Bucharest, where you have to compete today?
Grabher : I want to continue where I left off on Sunday, take the flow with me. Of course I've had a tough week, it's a new experience that has to be gained first. But I am fully motivated to continue there.
Julia Grabher - "You can only tip your hat to Iga Swiatek"
tennisnet : What about your team? Do you have to take care of logistical issues such as travel planning from Bari to Bucharest yourself?
Grabher : The last few hours have been very time-consuming. And I'm glad that some people helped me. It's complete teamwork, without which I wouldn't be able to do it. This team also includes Philipp Lang, with whom I have been on the road for two months. When there are no tournaments, I train with Günter Bresnik in Südstadt. I now also live in Vienna.
tennisnet : What does autumn 2022 look like for you?
Grabher : The plan is to play in Bucharest i Budapest after this week. After that there might be a clay court tournament. But I have almost nothing left to defend this year. And the goal is to play in the main draw in Melbourne in January.
tennisnet : Where do you see your personal upper limit?
Grabher : This is a completely new experience for me. I have to establish myself first. Where the journey will go then, I don't think about it yet. But I know I can beat the top 50 players anytime.
tennisnet : Finally: How much did you notice from the US Open?
Grabher : I followed every two weeks except for the men's final on Sunday night. One can only tip one's hat to Iga Swiatek. Having won my third title in this category at the age of 21 - that's inspiration for me, because I want to play on a stage like this as soon as possible.