WTA Madrid: Coco Gauff criticizes "ban on speaking" at double award ceremony
At leastCoco Gauff was annoyed that the participants in the women's doubles final at the award ceremony were not given the opportunity to say a few words to the audience.
by Jens Huiber
last edit: May 08, 2023, 09:45 am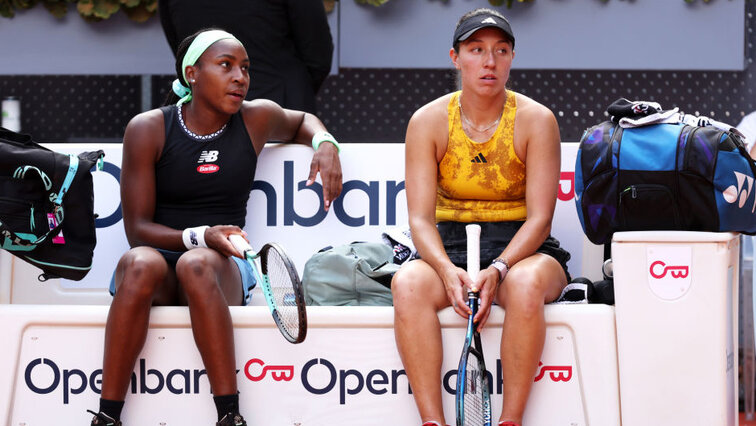 The normal procedure on the final days of a tennis tournament is as follows: as soon as the champions in the individual competitions are crowned, there is a ceremony during which the microphone is and should be picked up. Most of the time, thanks go to the tournament organizers, the ball children, the sponsors and, of course, to your own team. Celebrated in an exemplary manner on Sunday evening by Carlos Alcaraz and Jan-Lennard Struff.
A few hours earlier, however, the protocol was thrown overboard. And it can be assumed that the reason for this is that the participants in the doubles final did not just send friendly greetings. And so the trophies were handed over, but the microphones remained silent.
Gauff speaks up on Twitter
Which is a shame. Eventually, the title went to Victoria Azarenka and Beatriz Haddad Maia. And especially from the Belarussian one would have liked to hear something. Because Azarenka had already denounced the unequal treatment of women and men in Madrid with a tweet during the week. But this chance was taken away from her. It couldn't have been due to scheduling difficulties: Azarenka and Haddad Maia had won the doubles final against Cori Gauff and Jessica Pegula smoothly and quickly 6: 1 and 6: 4.
In any case, Gauff made no secret of her displeasure. And released a tweet that certainly reached tournament boss Feliciano Lopez. "Didn't have a chance to speak after the final today," Gauff wrote. To then congratulate their conquerors and everyone involved in the tournament. But the core sentence was probably: "Unfortunately, the format of Twitter doesn't give me the opportunity to say everything I would say in a speech. If we had had one."
Let's see if there's anything else to come at the next tournaments. Coco Gauff is certainly willing to go into detail if asked.
madrid map