WTA: Maria Sakkari - "Don't enjoy being one of the best players in the world"
Maria Sakkari and her trainer Tom Hill reflected on their poor performance in recent months and came to a surprising conclusion.
by Stefan Bergmann
last edit: Aug 10, 2022, 03:32 pm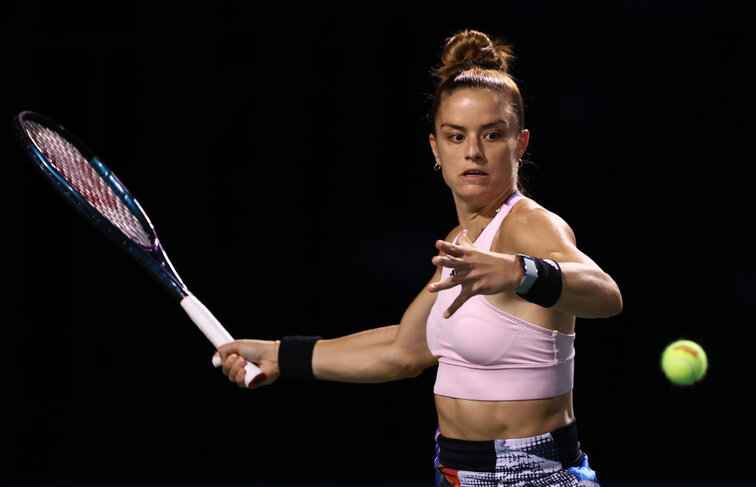 Even if Maria Sakkari was able to solve her first-round task at the WTA Tour 1000 event in Toronto in the person of Sloane Stephens in three sentences, the last few months have not been a picnic for the current fourth in the world rankings. Especially the weak performances at the last two major events in London (third round loss against Tatjana Maria) and Paris (second round defeat against Karolina Muchova) were difficult for the Greek to digest. Last week in San Jose (California) the clear 1: 6, 3: 6 loss even came at the start against Shelby Rogers.
"I sat down with Tom [Hill] (coach) for a few hours and realized I didn't enjoy being one of the best players in the world. It was very hard for me to admit I do it difficult to deal with. But it's the truth, it's the reality," said the southern European at a press conference in Canada. She thinks the pressure and other inconveniences are something she needs to learn to deal with now.
"Soon a different Maria than the last few months"
Climbing up to third place in the women's world rankings wasn't easy either: "After the game against Paula [Badosa in the Indian Wells semifinals], it was very emotional because I knew I was going to be a top 3 player . Because my mother was very famous back in Greece, I was always the person who 'would never make it anyway, even if she did everything differently'. And then suddenly I was one of the best players in the world."
It was all very hard for her: "I stumbled. Sometimes when you're on tour and you play every week, you don't reflect on what you've really achieved. Some people need time for it, and I think I have time need for that." However, she thinks she's back on the right track. "I think you're going to see a different Maria soon than you've seen in the past three months."