ATP Geneva: Alexander Zverev starts today against Christopher Eubanks
With Christopher Eubanks , Alexander Zverev starts today at the ATP Tour 250 tournament in Geneva (from 6 p.m.) against a man who is rather inexperienced on sand.
by Jens Huiber
last edit: May 23, 2023, 07:15 am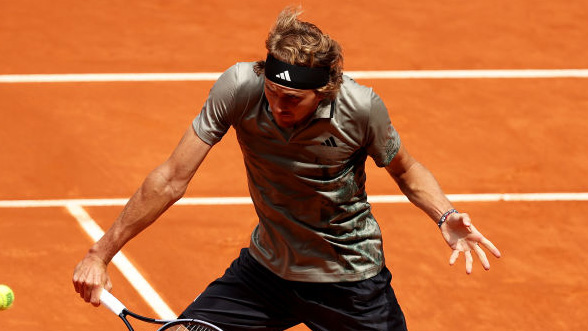 Taylor Fritz recently revealed in Munich that he had to be almost of age (by European standards) before he finally had his first professional encounter with the red sand. Things are certainly very similar for Christopher Eubanks - the American tennis pro as such usually grows up on hard courts. Which is why Eubanks has also hired out on Asian challengers in the past week. Today's game against Alexander Zverev (not before 6 p.m.) in Geneva will be the premiere at Terre Battue 2023 for Christopher Eubanks.
The man from Atlanta is 27 years old, you can probably call him a "journeyman" in the tennis circus in the best sense of the word. Eubanks is currently at position 75 in the ATP charts, he has never been so high up. This is mainly due to his run in Miami, where Christopher Eubanks fought his way through qualifying to a quarter-final game against Daniil Medvedev, who was then too strong.
Zverev wins title in Geneva in 2019
So the starting position is good for Alexander Zverev. The 2021 Olympic champion wants to gain practice in matches and wins in Geneva, maybe even his 20th title. With that he could draw level with Medvedev, a certain rivalry with the Russians cannot be denied. In contrast to Zverev, however, Daniil Medvedev already has a major title on his balance sheet.
Geneva will not be able to help Zverev in this regard. The current German number two can still do a lot with the event, which is managed by Rainer Schüttler as tournament director. After all, he won the title here in 2019. Also in a phase where things weren't going quite so smoothly. Strictly speaking, Geneva was the only tournament that Alexander Zverev won that calendar year.
The first championship is still pending this season. Although Zverev had rightly demanded patience with him as a comebacker - he himself seemed to have pondered a bit in the past few weeks. Zverev seemed somewhat discouraged and at a loss against Medvedev in Rome. That's where a sand debutant like Christopher Eubanks comes in handy. Even if he defeated an old hand at the start with Benoit Paire.