ATP Masters Indian Wells: Norrie wins title - and registers final claims
Cameron Norrie won the ATP Masters 1000 tournament in Indian Wells. The Briton defeated Nikoloz Basilashvili in three sets. And can now hope for a starting place at the ATP Finals in Turin.
by tennisnet.com
last edit: Oct 18, 2021, 06:35 am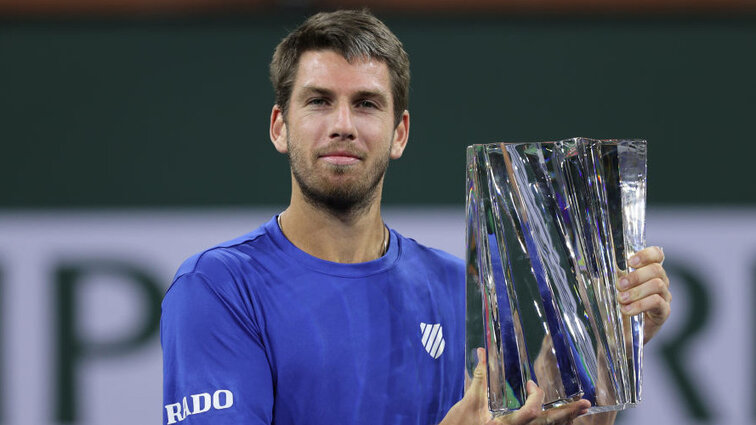 Dominic Thiem's successor as Indian Wells champion is called Cameron Norrie. The Briton defeated Nikoloz Basilashvili 3: 6, 6: 4 and 6: 1 in the final on Sunday and climbed to tenth place in the annual standings, the Race to Turin. Norrie is the first player from Great Britain to claim the Tennis Paradise title - not even the great Andy Murray succeeded.
Speaking of Murray: Like his compatriot, Norrie faced a shoe problem before the final: They had disappeared overnight. Norrie had left three couples in the locker room overnight, at least without a wedding ring like Murray. For the match against Basilashvili, Cameron Norrie had to play in a new pair, an unpleasant thing for a creature of habit like the left-hander.
Norrie with a new career high
Norrie had started the tennis year at position 71 on the ATP charts, before the start of the event in Indian Wells he was already at position 26. With his first win at a 1000 event, Norrie jumped from ten places to 16, a new one Career high. The defeated finalist Basilashvili improved by nine positions to 27th place.
"It is of course a bit of a surprise," said Norrie in his winning press conference. "At the beginning of the tournament you are a little nervous. You don't feel safe, you are not familiar with the conditions. I had a few tough matches at the beginning. "But then things started moving. "It was obviously pretty amazing that all the top players lost. And when I looked at the four semi-finalists, I thought: Òk, this could be a good opportunity.´ "Which he grabbed by the head.