ATP Masters Rome: Daniil Medvedev doesn't give Yannick Hanfmann a chance in the quarterfinals
Daniil Medvedev has made it into the semi-finals of the ATP Masters 1000 tournament in Rome with a convincing two-set win against Yannick Hanfmann .
by SID
last edit: May 18, 2023, 05:09 pm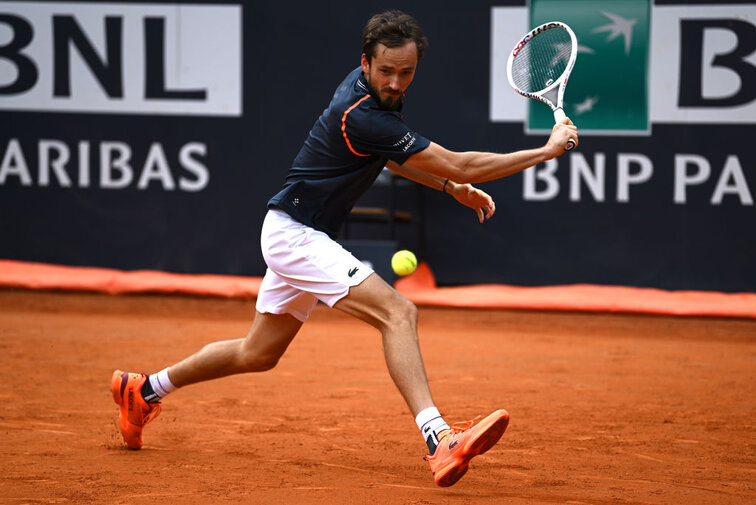 Here you can read the match in the ticker
The surprising triumph of tennis pro Yannick Hanfmann at the ATP Masters in Rome has stopped. In the quarter-finals of the 1000 tournament, the 31-year-old lost 6-2 and 6-2 at world number three Daniil Medvedev from Russia. For the qualifier Hanfmann, entering the top eight was the greatest success of his career.
Hanfmann was comforted by the prize money of 161,525 euros and a huge leap in the world rankings over the clear defeat. The Karlsruher climbs to at least 65th place in the ranking on Monday and is therefore the third best German behind the new number one Jan-Lennard Struff (Warstein) and Alexander Zverev (Hamburg). His best finish so far was 92nd.
Olympic champion Zverev had also previously lost to Medvedev and is still looking for his top form ahead of the French Open in Paris (from May 28). Medvedev, who has already won the tournament four times this year, is becoming one of the favorites for the title in Roland Garros on the actually unloved sand.
Hanfmann was not a big challenge for the Russian, although the German had already beaten two top ten players in the course of the tournament, the American Taylor Fritz and the Russian Andrey Rublev. He had only achieved such a prestigious success once before: in Hamburg in 2021 against the Frenchman Gael Monfils.
Here the single tableau in Rome
rommap