ATP Rome: Novak Djokovic - "A new generation is already here"
After his defeat against Holger Rune,Novak Djokovic praised the new generation at the ATP Masters 1000 tournament in Rome.
by Nikolaus Fink
last edit: May 18, 2023, 01:26 pm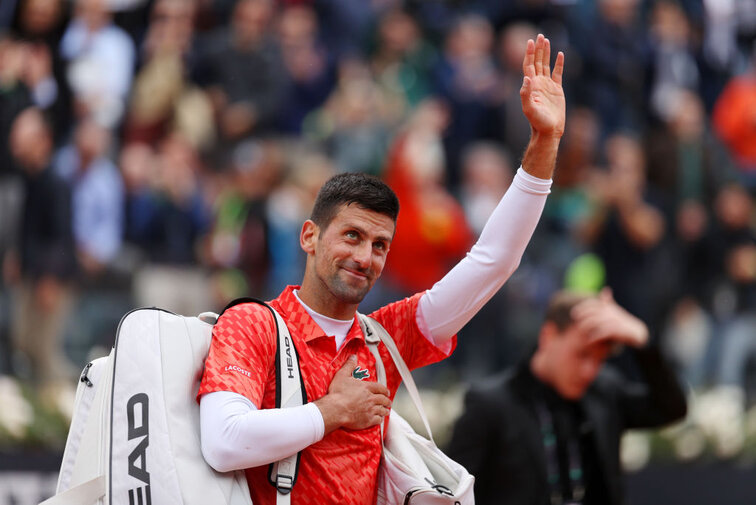 For Novak Djokovic, the preparation for the French Open only went as desired to a limited extent: After two early defeats in Monte Carlo and Banja Luka, the 22-time Grand Slam winner at the ATP Masters 1000 tournament in Rome reached the quarter finals , but Holger Rune had to admit defeat with 2:6, 6:4 and 2:6.
"He was just better. He played too well for me for long stretches of the match. I had a bad start in the third set. I think the match somehow shifted to his side. He kept his nerve and deserved it won", Djokovic showed after the game as the usual fair loser.
Djokovic against Rune still without a win
After the final defeat in Paris-Bercy last year, Djokovic also lost out in the second duel against Rune. He therefore has no advice for the 20-year-old Dane, who meets Casper Ruud in the semifinals. "I'll ask him for tips," smiled the 35-year-old. "So far he's doing very well."
Alongside Jannik Sinner and Carlos Alcaraz, Rune is one of the climbers of the past year. "Obviously there's already a new generation. Alcaraz is number one in the world from Monday. Obviously he's playing fantastic tennis," said Djokovic. "I think it's also good for our sport that we have new faces, new people who are rising. That's quite normal."
Djokovic with two French Open titles
According to Djokovic, he himself has the right to keep up with the new generation. The next showdown will be on May 28th at the French Open, which the exceptional Serbian has already won twice. Despite the mixed clay court season to date, he is still full of confidence for the second major event of the year.
"I know I can always play better. I'm definitely looking forward to working on different aspects of my game and my body and hopefully getting 100 percent fit. That's the goal," explained Djokovic. "I always think I have good chances in Grand Slams, against everyone, no matter what surface, in best-of-five mode. Let's see how it goes."
Here the single tableau in Rome
rommap