"Big gap behind Zverev" worries Michael Stich
Former Wimbledon champion Michael Stich has expressed concern about the lack of power density in German men's tennis.
by SID
last edit: Feb 06, 2023, 06:41 pm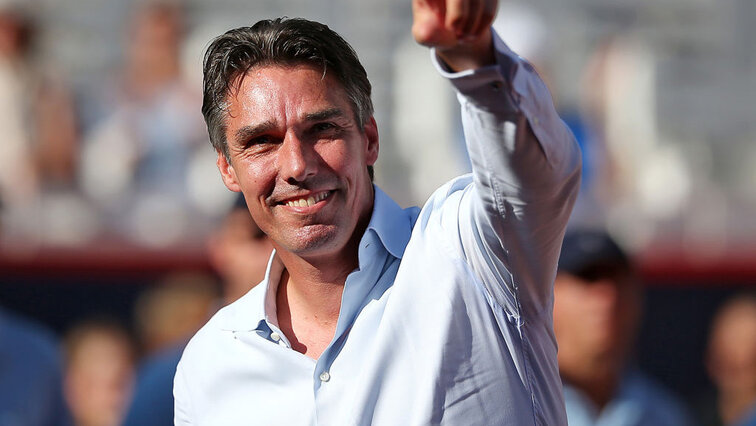 "We have the problem that, at least in individual terms, the gap to Alexander Zverev is huge," said the 54-year-old of the Frankfurter Allgemeine Sunday newspaper. The chances of possible success in the Davis Cup in the coming years would "not necessarily increase".
The German Tennis Association (DTB) team surprisingly missed qualifying for the Davis Cup group stage in September after beating Switzerland 2-3 on Friday and Saturday and now has to fight in the play-offs to stay up in the world group. Stich, Davis Cup winner with Germany in Düsseldorf in 1993, named the main characteristics of a successful national team: "The characters have to fit together, you have to complement each other. You also need a leader who exudes will."
Stitch - "Davis Cup Cored"
The uncertain future of the Davis Cup worries Stich. The reform of the competition in 2018, initiated by the Kosmos investor group, which is no longer responsible, was a "disaster": "I found it terrible to gut a competition that has existed for over 100 years just because of the money. Simply because of this feeling of the home games that the fans in the stadium that you have chosen yourself no longer have."
After the termination of the contract with Kosmos, which was an admission of "complete failure", the world association ITF is now facing a "Herculean task", said Stich. In what form the Davis Cup will be held in the future is uncertain.
The former second in the world rankings also criticized the current tennis generation, which often refuses to change the playing surface at short notice: "Anyone who is unable to switch from sand to hard court within a week should question themselves why that is not possible." , he said, noting that players have "become more self-employed" than before.