Boris Becker - "Zverev has to fix the same mistakes"
Boris Becker drew a critical balance sheet on Alexander Zverev's Wimbledon appearances in the Eurosport podcast "The Yellow from the Ball".
by tennisnet.com
last edit: Jul 16, 2021, 02:40 pm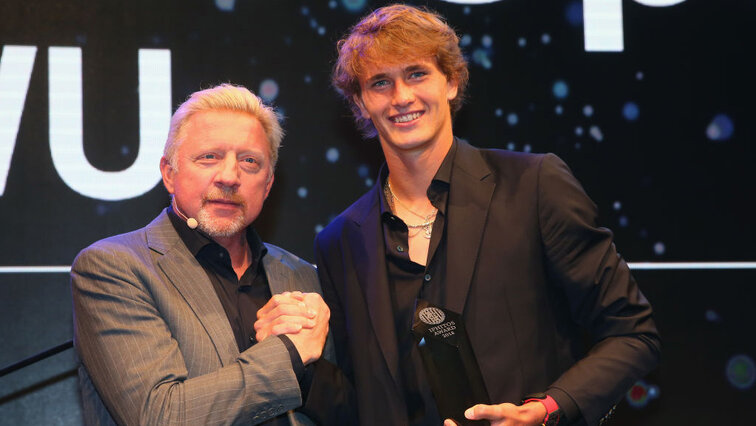 The next Grand Slam tournament was history last Sunday. And Boris Becker took stock of the third major of the year in the Eurosport podcast "The Yellow from the Ball" a few days later. The three-time Wimbledon champion was again on site as a commentator in the service of the BBC - and was able to witness the sixth title of his former protégé Novak Djokovic up close. In terms of sport, the industry leader is beyond any doubt, but there were also moments in the current edition of the tournament when Djokovic seemed upset about the distribution of sympathy in the audience.
beckernole
"I also find it normal somewhere that you not only want to be respected, but also to be loved when you've been world-class for so long," said Becker on this subject. "It's not really up to him, he's number one, the best in the world and the outsider is supported. And Novak almost sees it as disrespect for not being for him. I've tried to explain to him a few times that it's now for the underdog and not so much against him. "
Zverev too passive in crucial situations
Becker also found clear words about the appearance of Alexander Zverev. The German had already failed in the round of 16 against Félix Auger-Aliassime, against whom he had easily won all matches before. "I commented on the match in the round of 16 between Zverev and Aliassime. It was a roller coaster ride. Partly world class, partly not at all good. He still makes the same mistakes, that's the annoying thing. He fails every time because of the same mistakes and weaknesses. What the opponent is called, that doesn't really matter. Zverev fails because of Zverev and not because of the opponent. That must be annoying him. He has a different claim and wants to win Grand Slams. "
beckerzverev
In fact, Zverev was only two points away from the first major title at the US Open last year, this season he failed in Melbourne in the quarter-finals to Djokovic and in Roland Garros in the semifinals to Stefanos Tsitsipas. Because his approach to play does not change, as Boris Becker finds: "He is a leader among the younger generation and doesn't have to hide behind anyone. But he has to fix the same mistakes and that's the annoying thing that it repeats from Grand Slam to Grand Slam. In critical phases he remains too passive, he stands behind the baseline and hopes that the opponent will make a mistake. That's enough against the worse-placed players, but the better ones don't make a mistake. "