Casper Ruud on the medical timeouts: "Maybe rethink the rules"
Casper Ruud kept his composure after his semi-final defeat against Holger Rune in Rome. But still a little criticism.
by Jens Huiber
last edit: May 21, 2023, 03:37 am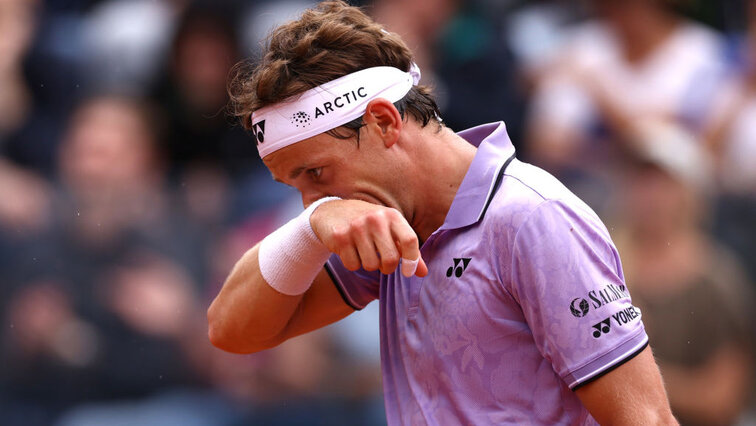 Casper Ruud, as anyone who has ever dealt with the Norwegian will attest, is an exceptionally polite young man. Even during his matches, Ruud does not tend to let his (negative) emotions run free - he has no memory of smashed rackets.
Sure: Ruud has a strong sense of justice. He already proved that in Rome in 2019: he was standing on the other side of the net when Nick Kyrgios threw a chair onto the court. Ruud, then still an almost unknown quantity, called for the Australian to be suspended. Kyrgios retaliated with some verbal abuse.
So now Rome again, this time not against Nick Kyrgios, but against Holger Rune. And for a long time it looked as if Ruud should also be able to win the fifth meeting with the Dane. Set and 4.3 with a break in front - what else could go wrong? As you now know: quite a lot. Rune made the comeback and was the better player in the third set.
At the end, Ruud also praises Rune
But once again, Rune, now 20, has struggled during a precarious period of a medical timeout. Namely exactly at the score of 3: 4 in the second set. When asked if he saw this as a tactical measure, the defeated Casper Ruud said: "I don't want to assume that, but I don't know. I would just have to guess. But I think if you're in pain then you have the right to get the physio."
But, as Ruud continued in his post-match press conference, everything should have its limits. "The rule should be discussed. Because there are many instances where someone takes a medical timeout before their opponent serves." That would break the waiter's rhythm.
Maybe also a reason why Holger Rune was able to turn the match against Casper Ruud. But the always fair Ruud also said: "He played very, very well in the second and third set."
Here the single tableau in Rome
rommap