Daniil Medvedev: Who can stop the "madness"?
Tennis insider Marco Kühn dealt with Daniil Medvedev in his latest article: his game, his peculiarities.
by tennisnet.com
last edit: Nov 27, 2020, 04:18 pm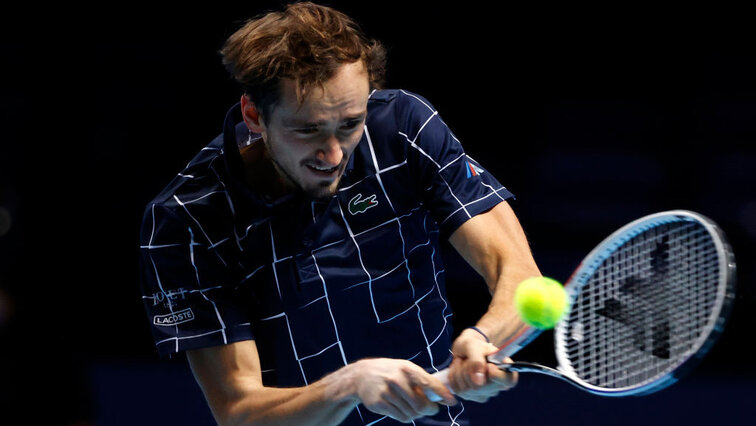 When you play tournaments you know how Daniil Medvedev's opponents feel. Hardly any mistakes, strange behavior between the rallies and a certain unpredictability are ingredients for successful tennis. Even in the field of hobby and club players, opponents who behave strangely and hardly make any mistakes are feared. They not only work on you in a playful way, but also in your head.
How Daniil Medvedev became a champion
If you read a little about the lanky Russian, you will quickly stumble upon an important quote: "I began to dedicate my life to tennis. I began to do everything in my power to become a better tennis player."

This mental alignment was the starting shot for the success of the guy who doesn't cheer when he wins. Since we humans love rewards, it can be assumed that Medvedev will play cross more effectively in 2021 and make even fewer mistakes. He was more than rewarded for his commitment to subordinate everything to tennis. This will inspire him.

He has worked hard to gain confidence. It will be difficult to cut the covering in this area.

If we look at Medvedev's style of play, one thing stands out: everything looks a little unpredictable. He doesn't look as elegant on the forehand as Roger Federer. It sometimes seems as if he is too late to back up. Its serve movement is as simple as the multiplication table. There are no complex or superfluous hooks. He throws the ball up, takes the bat in the back, and serves. What happens afterwards in the rally is just as simple. He keeps the ball in play and hardly gives the opponent the opportunity to exert effective pressure. If the ball flies over the net a few times, Medvedev uses his calculated unpredictability. He suddenly begins to play fast, to run to the net or to completely change the pace of the rally.

This "madness" is his tactic. Every player on the tour will have to assume that this madness will become even more complex and difficult to play.
Who can stop the "madness"?
The triumph in London put Daniil Medvedev at the top of men's tennis. At least for now. Medvedev has won all of the last ten matches. These included victories against all the great players that active men's tennis is currently familiar with.

With the start of the 2021 season, Medvedev is the man to beat. That takes some pressure off Novak Djokovic's narrow shoulders. But one should not believe that Medvedev will experience any pressure of expectation. If you don't cheer when you win the finals, you won't have any pressure when you serve.
Earlier we roughly outlined Medvedev's playing style:
- few mistakes
- unpredictable
- a lot cross, a lot through the middle
- extremely strong return game
- flexible, varied surcharge

The new generation of players embodies a different idea of how to play successful tennis. It's a bit of a contrast to what Medvedev is playing. Rublev, Shapovalov, Auger-Aliassime and Sinner play anything but wait and see. They hit the ball and have real weapons in their game. They are all capable of killing an opponent. They dictate, put every opponent under pressure from the first stroke and can keep up with any pace. Dominic Thiem naturally also belongs to this type of player. Even if he no longer belongs to the new generation, but has become an established champion.

But what do these guys do when an opponent is constantly slowing the rally?
"Hardhitter" vs. "Madness"
If you want to beat a lot of winners, you need rhythm. It is precisely this that Medvedev knows how to destroy. To do this, a hard hitter needs mental freshness. Those who are a little cracked mentally make more easy mistakes. This is due to the natural way of playing. Since the good Daniil is a master at crawling into the head of the opponent and making noise there, "hitting hard" is not enough. In addition, I imagine having to play against Medvedev is extremely tiring mentally. He doesn't give you anything for free, has hardly any periods of weakness and is also able to kill shorter balls. Playing against him, especially in longer matches, is mentally comparable to climbing Mount Everest.

So a mix is needed. If you want to stop Medvedev, you have to play aggressively and appear almost stoic at the same time. And even if a name comes up that you wouldn't necessarily associate with the term "stoic", this guy can be one of the few players who can trip Medvedev.

Alexander Zverev and Dominic Thiem have the playful as well as mental weapons to beat Medvedev in big matches. Thiem has already proven this and still has his greatest successes ahead of him. And Zverev, who was able to experience a lot on and off the field in his young career, brings everything with him. He's playing more aggressively and has improved his net play. His serve is a force and a perfectly effective means of beating types of players to Medvedev. With his serve, Zverev can take Medvedev's return strength a little out of the game.

What will definitely happen? We will experience high-class, exciting matches, which will ensure breathtaking and spectacular rallies due to the different playful orientations. This is what Dominic Thiem has stood for with his name for years.