Dominic Thiem should be vaccinated - says the Minister of Health
The Austrian Minister of Health Wolfgang Mückstein has publicly asked Dominic Thiem to be vaccinated against the corona virus.
by tennisnet.com
last edit: Oct 28, 2021, 10:26 am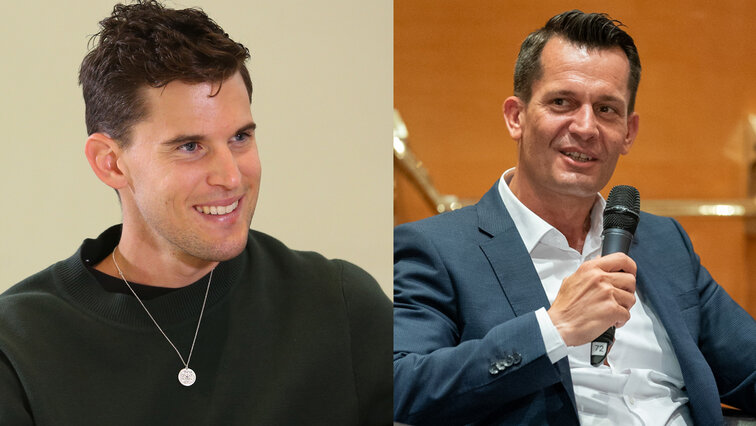 While Bayern kicker Joshua Kimmich is the focus of vaccination discussions in Germany, Dominic Thiem's status has reached a political dimension in Austria. Health Minister Wolfgang Mückstein publicly called on Thiem, who is still injured, to be vaccinated against the corona virus. Thiem had said at a press conference a few weeks ago that he was still waiting for the development of a new vaccine, but was planning to get full vaccination protection by the end of November.
That would certainly also be helpful for Dominic Thiem with regard to the Australian Open. Almost every day there are new water level reports from Down Under, but one thing seems to be clear: Unvaccinated players have to be quarantined for 14 days if they are allowed to enter the country at all. And then even a hard one. At the beginning of 2021, the majority of the players had the opportunity to leave their hotel rooms for five hours for training purposes.
Thiem is waiting for dead vaccine
Health Minister Mückstein pointed out in an interview for Puls24 that the development of a dead vaccine will not be completed before 2022. But in view of the increasing numbers of infections, you shouldn't wait that long. Especially since, according to the Green politician, the existing vaccines are safe. "We also have almost 30-year-olds in the intensive care unit, that's not how it is," added Mückstein.
It remains to be seen whether and how Dominic Thiem will react to the politician's request. The 28-year-old has planned the comeback after the injury break for the beginning of 2022, at the end of this year Thiem would like to gather some match practice again in an exhibition match. The 2020 US Open winner played his last game on the ATP tour in Mallorca in the summer. Thiem suffered an injury to his right wrist. The return planned for the US Open had to be canceled due to a setback in August.
Currently, around 70 percent of the players on the ATP tour are said to be fully vaccinated. For comparison: In the NBA, the National Basketball Association, the rate is almost 100 percent. And in the German Bundesliga, Joshua Kimmich belongs to a group of around ten percent who have not yet decided in favor of a vaccination.