Enzo Couacaud: 'Hard to believe anyone in the world can do that'
Enzo Couacaud was the only player to win a set against Novak Djokovic at the 2023 Australian Open. When asked about the Serb's injury, the Frenchman was at least skeptical.
by Michael Rothschädl
last edit: Feb 05, 2023, 08:20 pm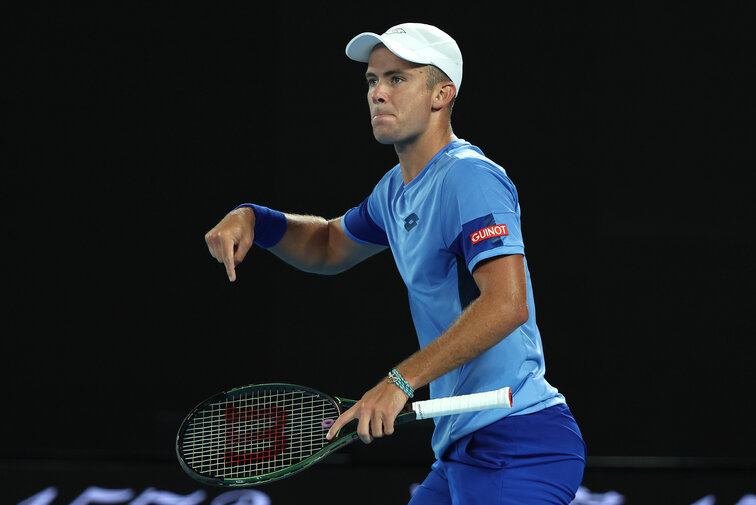 Enzo Couacaud was able to balance the duel with Novak Djokovic over two sets, but the Frenchman was never really able to endanger the now 22-time Grand Slam winner. And that although the injury seemed to affect Djokovic the most in this match.
"It was the first time that I played against him. From TV to reality - that's no comparison," said Couacaud a few days after the meeting with the world number one. "About the injury he says he has: It's something serious. Many athletes can't continue with it," said the Frenchman at Tennis Actu.
Even absolute greats in sport, such as Rafael Nadal or Kylian Mbappe, would have had serious problems with such an injury: "We're talking about the best athletes here, not about those who don't have access to the best equipment and the best care. It is hard to believe anyone on earth can do that," Couacaud said.
Couacaud is skeptical
The Frenchman, that shines through, was skeptical at best: "I don't have his level, his care or his body, but if we take the example of Nadal or Mbappé, but especially Rafa, with the injury at Wimbledon he couldn't open once," says the 27-year-old. "He's a tough guy. When you see that the best one can't go on the pitch and another one who wins a Grand Slam plays for 15 days. That seems a bit unlikely."
In particular, the style of play that the Serb showed despite the adductor injury would have surprised the French: "I grew up with medical knowledge and I was always told not to stretch when injured. When you see Novak constantly changing stretches, you think there's either a new method in Serbia or it's weird. I'm too far away to judge the authenticity of anything. It's true it seems hard to believe."