Generali Open Kitzbühel: Casper Ruud wins the title shortly before midnight
Third tournament victory within three weeks for Casper Ruud : The Norwegian prevailed 6: 1, 4: 6 and 6: 3 against Pedro Martinez in a final that was dragged out by the rain.
by Jens Huiber
last edit: Jul 31, 2021, 11:33 pm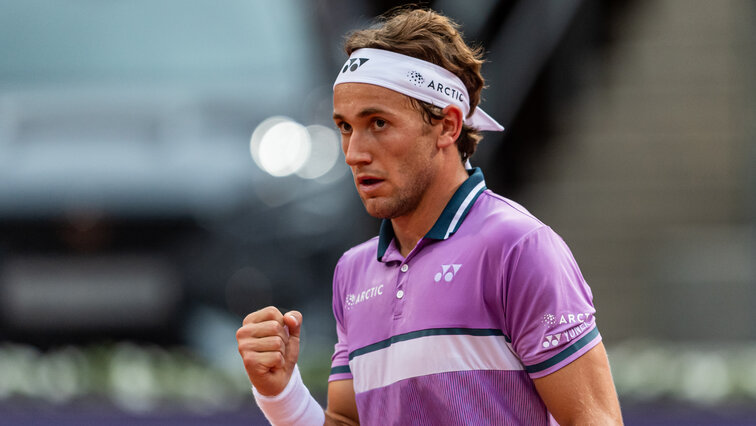 Night sessions are not uncommon on the ATP tour, only last week in Umag the matches were always tackled fairly late due to the summer heat in Croatia. In Kitzbühel this was not planned on the final day - but the rain left the organizers no other choice. And so Casper Ruud was able to celebrate his third tournament victory within three weeks in front of a handpicked crowd just before midnight.
At 4:30 p.m. Ruud and final opponent Pedro Martinez started their final, at exactly 10:19 p.m. the two resumed their fighting for the title at the Generali Open after a good five-hour break in the rain. Both players would have urged to finish the final on Saturday, almost no matter when - a successful template for tournament director Alex Antonitsch. Because the weather forecast for Sunday did not bode well either. At the time of the resumption, the score was 6: 1 and 1: 2 from Ruud's point of view. Which actually seemed inviolable. Until he put three forehand balls out of bounds at 4: 5, plus a backhand. The first break for Martinez, who managed to equalize the set.
Ruud draws level with Murray
In the decision, Ruud put the first exclamation point, got the break to 2: 1. The next was followed by number one at the Generali Open a few moments later. Martinez, who defeated Lucas Pouille and, above all, Roberto Bautista Agut, two real Kapazunderers during the tournament week, could not recover from that. Even if Casper Ruud suddenly offered something again in the eighth game: Martinez managed the first re-break - and that after a 30-0 for Ruud. The favorite was not at all comfortable with that. And Ruud ended with a break. With a net scooter.
With his success in Kitzbühel Ruud closed the tournament series with Bastad and Gstaad unbeaten with three titles. Andy Murray last succeeded in doing this in 2011 in Bangkok, Tokyo and Shanghai. In the ATP world rankings, Ruud moved up one place to eleventh, a new career high. Which, by the way, also applies to Pedro Martinez with 76th place.
Here the single tableau in Kitzbühel
kitzmap