Generali Open Kitzbühel: Nervous Thiem moves into the round of 16
Dominic Thiem reached the round of 16 of the Generali Open 2023 with a 7: 6 (4) and 7: 6 (6) against Facundo Bagnis . There the Kitzbühel champion of 2019 meets the Chinese Zhizhen Zhang.
by tennisnet.com
last edit: Aug 01, 2023, 11:41 pm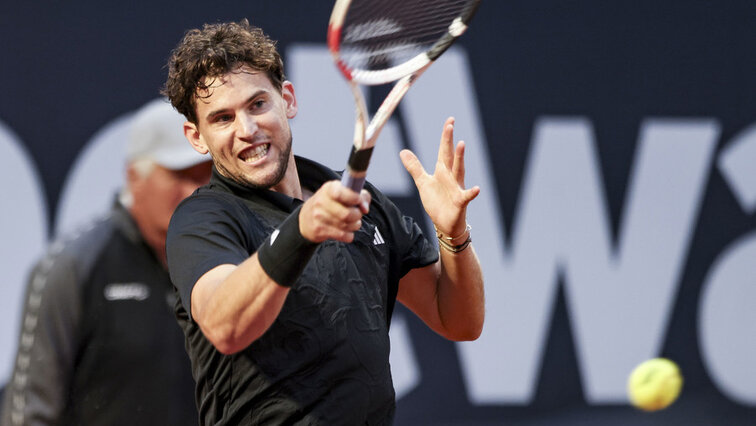 Here is the match to read in the live ticker.
The first set was not for the faint-hearted: Facundo Bagnis got off to a better start and took a 4-1 lead. Thiem shortened to 2: 4, then the rain started. More than an hour later, the game was resumed. Now the Austrian got going faster, managed the rebraek to make it 3: 4 - but had to parry five set balls when the score was 4: 5. In the tie-break it was the local hero who, to the delight of the numerous remaining fans, had the better end for himself.
The second act began with a break from Thiem, everything seemed to be heading for a smooth success for the 2019 Kitzbühel champion. But facundo Bagnis, who had come into the main draw through qualifying, fought his way back into the game. Again a tie break had to decide.
Thiem fends off set balls again
Thiem made a quick mini-break to make it 2-0, a forehand error by the Austrian made it 2-2. Ends were switched at 4-2 to Bagnis, but the Argentinian also blundered with the forehand. Nevertheless, as in round one, Bagnis also had set balls - at 6: 4. Thiem fended off both. And got the first match point. And at 11:28 p.m. sharp, Bagnis had a complete smash accident - Dominic Thiem was allowed to celebrate.
In the round of 16 on Wednesday in the fourth game of the day on the center court against Zhizhen Zhang. The Chinese certainly defeated Dusan Lajovic 6:3 and 6:2 at his premiere in Kitzbühel.
Here is the individual tableau in Kitzbühel
kitzmap