Holger Rune - "Djokovic has always been very generous to me"
According to Holger Rune , he can still learn a lot from players like Novak Djokovic for his further tasks in the coming season.
by Stefan Bergmann
last edit: Nov 29, 2022, 01:23 pm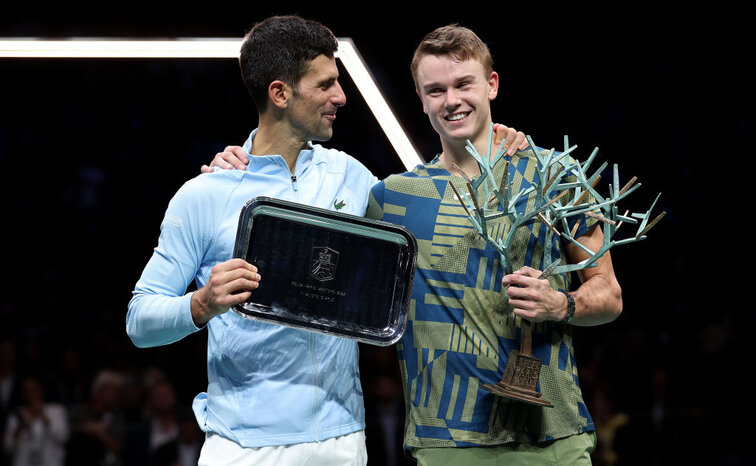 There are probably no two opinions: Holger Rune is one of the biggest high-flyers of the past tennis season. However, less of the biggest surprises, because the fact that the 19-year-old Dane is destined for something really big is attested to him and his entire support staff practically unanimously by the entire ranks of not only self-proclaimed tennis experts.
Back in the spring, Rune secured his first ATP Tour tournament victory of his career on the beautiful grounds of the MTTC Iphitos in Munich. But the final phase of 2022 was really tough for the Scandinavian, impressively he was in the final of four events in a row and was even able to lift the trophy in Stockholm and Paris-Bercy (an ATP Masters 1000 tournament).
Focus serve improvement
In an interview with the "Relevant Tennis" platform, Patrick Mouratoglou's protégé analyzed which areas of his game he could still improve: "I'm still growing, so my serve will be even more deadly. I'm working on becoming more precise." He can learn a lot from training sessions with Novak Djokovic: "When I train with him, I'm always impressed by his precision, including when it comes to service.
"Serve is very important to me, that's why it's improved. Over the last year I haven't paid much attention to service. I've been more into rallies and more interested in groundstrokes. But over the year I've I'm more and more interested in improving the serve." If you invest energy in something, you will inevitably improve at it.
Rune also only has friendly words for the 21-time Grand Slam champion from Serbia: "It was the dream final for me in Paris. I have the utmost respect for Novak and for the things he has achieved. That will definitely work not everyone. And Novak has always been very generous to me in terms of sharing his knowledge."