Jurij Rodionov in an exclusive interview: "I´ve matured as player and as a human being"
The start of the season in the Australian Open qualification did not go according to plan for Jurij Rodionov . In an interview with tennisnet , the Austrian now talks about the importance of the mental component, ways to success and reveals who he considers the hottest stocks for the future of tennis.
by Michael Rothschädl
last edit: Jan 20, 2021, 08:26 pm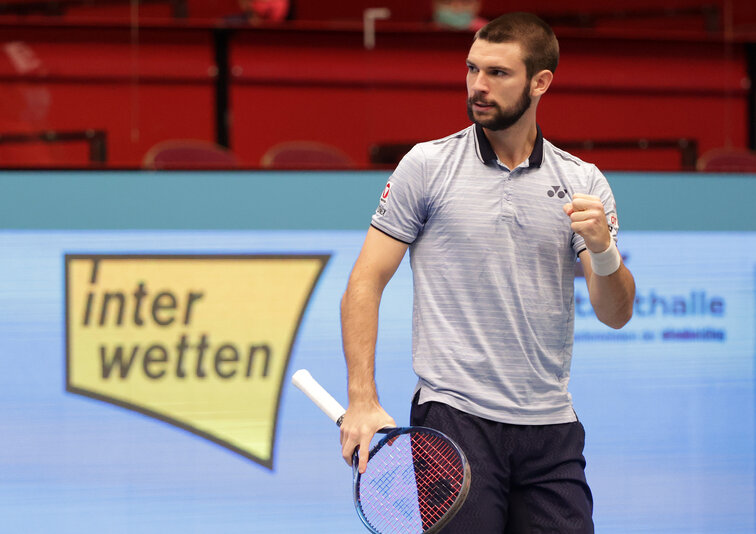 The start of the season in Doha last week did not go according to plan for you. Immediately after your defeat you posted on Facebook that you had the best preparation of your career behind you, but that you could not bring it to the field. Now with a little distance to this match: What reasons could you find?
The biggest reason was that there was simply no match practice. Unfortunately, I'm a player who needs a lot of match practice to find my way into the tournament. That means, it's hard for me to play a tournament and perform right away after a two or two and a half month break. In addition, the change from indoor to outdoor is quite difficult for me, the other way around it is much easier for me. I have some problems with the serve, with the throw-up, and it happens that I lose the ball. I couldn't make up for that in the three days of training I had in Doha. Quite simply, I lacked match practice, which is why I was a bit lost on the pitch.
As a top athlete, your head simply has to function.

Jurij Rodionov on the importance of the mental component
The phrase "don't put it on the pitch" always points to the mental component - in an interview with Die Presse you revealed that you are working with a sports psychologist. How would you rate your mental state?
I think she is very stable and good. I know that the mental component is very important in top sport, so I don't want to leave anything to chance. That's why I wanted to prepare well, especially now in the pre-season, so that I know what to expect in every situation. Because as a top athlete, your head simply has to function. Otherwise it will be difficult.
Due to your successes in the preseason you were able to gain match experience against top 100 and sometimes also against top 50 players. What does it take to consistently hold your own against such opponents?
The most important factors are consistency, self-confidence and having a flexible match plan. I think these are the main points. Also, it is very important to gain experience and just take it step by step. If you train hard day after day, the results will come on their own.
Your new touring coach Javier Frana was an important success factor in the preseason. The collaboration with the Argentine came to a surprising end at the beginning of the year. You cited different financial ideas as the reason for the failure. This points to a structural problem that is repeatedly attested to tennis: Is it difficult for you as a player outside of the top 100 to financially support a full support team?
Of course, when you're outside of the top 100, it's extremely difficult to keep the team professional and at the same time to be able to afford it. But I think that outside of the top 100 I have a very professional, very good team. I have my own touring coach, an athletic trainer, a manager and a physio. I also have a stationary coach in Wolfgang (note: Thiem). You have to manage that financially somehow. But I am lucky that my brother, who supports me as a manager, and Florian Pernhaupt, my athletic trainer, have waived the big money right from the start, and trust in my talent and that they are convinced of it that something will come of me. I am very grateful for that. Then when the pie is bigger, when the ranking gets better, then each of the team members will get a bigger slice.
Forego the big money because they trust in my talent.

Jurij Rodionov is particularly supported by his brother and athletic trainer
Nevertheless, a replacement was quickly found, with Stefan Koubek this is a man with whom you have already had a few points of contact - especially in the Davis Cup, of course. How do you work with Koubek?
It's very pleasant, Stefan is a different character from Javier. Javier was more of a dominant coach, his word was law, there wasn't much room for discussion. With Stefan it's more of a togetherness. We discuss a lot more on the pitch. He also wants my input on how I see things, wants to know where my comfort zone is and where it is not. It's a very familiar feeling and I have a very good feeling with him on the pitch.
Is it already clear whether you will work with Koubek in the long term?
We have agreed that he will accompany me to ten tournaments, more are not possible for Stefan because he has professional and family obligations - he has a young son. That is why we have meanwhile agreed on ten weeks.
And what will the rest of the tournaments look like?
For the rest of the tournaments either Florian Pernhaupt or my brother are there. Maybe my physio will also come along from time to time. I also have a second "replacement touring coach" in Christian Magg. And I will probably go to a couple of tournaments on my own. So I'm very well prepared for the tournaments in 2021.
The ATP calendar until April has now been set. Have you already decided in which qualifications on the ATP Tour you would like to start? What is your tournament calendar for the coming weeks?
I think the Challenger calendar is not public until the end of February, the one of the ATP tour until mid or late April. So the next few weeks will look like this: I'll fly to Quimper on Friday for two weeks, there are two challengers. After that to Cherbourg and after that nothing is fixed yet. Like last year, a lot will change in the calendar this year, you have to be very spontaneous and just plan week after week. Of course, 250 or 500 (note: ATP 250 events or ATP 500 events) have priority if I should come in. But since the tournaments are very rare now, I don't assume that I won't get into many.
You also spoke to the press about the great self-doubt that plagued you before you worked with Javier Frana. What has changed in your mindset today if things don't go according to plan for a few weeks or even months?
That was also a big topic with my mental trainer, with Judith Draxler, that I am simply prepared for such situations. I also believe that I have matured a lot last year, I was able to gain a lot of new experiences and now - should I get into such a situation again - I am better prepared, so I already know what I have to do about it to get out again to come to the hole. Hopefully it won't happen again of course, but professional sport can be very tough and anything can happen. That's why it's better to be prepared for anything.
The way forward in the world rankings is very closely interwoven with the playful consistency. The spread of your services is still fairly wide at the moment. What exactly do you have to do now in order to be able to bring your maximum performance to the field more often in the future?
I don't think that's a secret: you have to train hard day after day, hour after hour. Every minute it is important to get the most out of it. Hard work pays off at the end of the day. Everyone just has to go through it. For professional athletes, as in real life, it's the same: if you want to achieve something, you have to work hard for it.
Every minute it is important to get the most out of it. Hard work pays off at the end of the day.

The key to success is no secret for Jurij Rodionov:
During the Erste Bank Open you also had the opportunity to train with Dominic Thiem and Daniil Medvedev, the two of whom are also considered to be the biggest pursuers of the "Big Three". Who do you see ahead of the Grand Slam tournaments this season?
It's very difficult to say. One always has the feeling that the older the "Big Three" (note: Roger Federer, Rafael Nadal and Novak Djokovic) get, the greater the chances for the youngsters. But the old hands are still doing very well for their age. Federer is 39, Nadal is 34, Djokovic 33 - that's really amazing what the guys at the top of the world are doing. But I also think that Dominic (Thiem's note) is now always a potential candidate for a Grand Slam title because he is extremely fit, has an incredible game and has been very consistent over the past year or two - he really manages to bring his best tennis to the court week after week. The same goes for Medvedev. I trained with him in Vienna. I find his game very unorthodox and very uncomfortable - he just has hits that you can't read, where you feel very uncomfortable as an opponent. The two have a very good chance of winning a Grand Slam tournament.
Some players from your generation are currently playing their way to the top of the world. Who do you see behind the generations Zverev & Tsitsipas as the most promising stocks for the future of tennis?
Definitely Denis Shapovalov and Felix Auger-Aliassime, they are the hottest candidates. Shapovalov can beat anyone on good days, not so much on bad days - as you saw in the match against me. Of the younger ones, Jannik Sinner is definitely a very hot candidate, his game is unbelievable for his age, and he can physically go a step further, which is of course very positive. He definitely still has potential and as a guy he is just extremely easy-going, a very nice guy. Also, there might be Lorenzo Musetti and Carlos Alcaraz. They have very interesting ways of playing. Alcaraz is a bull, fights for every ball - like Nadal. And Musetti is a very elegant player, with his one-handed backhand. It's really fun to watch. I also trained with him and believe that something will come of him one day if he stays injury-free.
In the coming weeks you will be playing at two events in Quimper, France. What are your expectations for flying to Brittany?
First and foremost, to get match practice. I think it is extremely important to me that I get off to a good start in 2021 and can shape the next one or two months well. So I hope I get a lot of matches. Of course I'll do my best, I'll fight for every point and hope to take my best game to Brittany.
In the last conversation with tennisnet.com you said that your big goal is to be among the top 100 in the world rankings. Should this be realized this year? What are your goals for this season?
In any case, the top 100 is my big goal. They have been for two or three years. I was close two years ago, at that time - I think - I was in 170th place. And since then, in my opinion, I have matured in a playful and human way. The top 100 are such a magical barrier in tennis that I still want to break this year. If I can do that, the next goal is to establish myself in the top 100 and just get consistent results and keep myself in the top 100.
Thank you for the interview!