Kitzbühel will remain the Generali Open - main and title sponsorship extended
As part of the semi-finals at the Kitzbüheler Center Court, the organizers were able to announce the contract extension with the Generali Group Austria until 2022 today.
by PM
last edit: Sep 12, 2020, 10:52 pm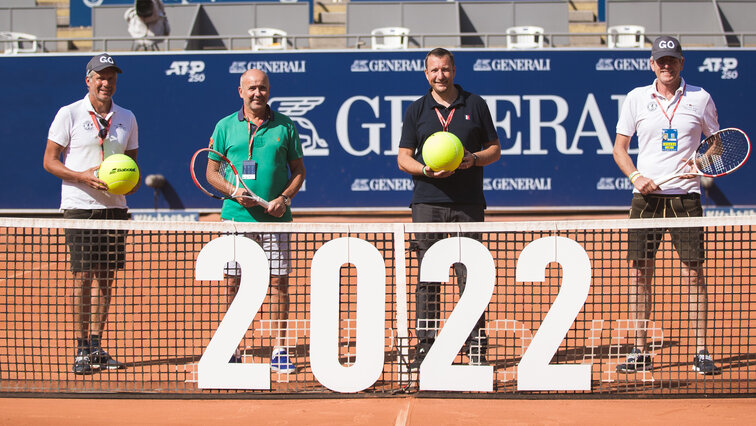 The organizers of the Generali Open were able to report good news away from the court today: Gregor Pilgram, CEO Generali Versicherung AG, Arno Schuchter, Board Member for Sales and Marketing and the two tournament organizers Herbert Günther and Markus Bodner were able to extend the contract of the main and title sponsor for at least more announce two years. "In these challenging times, extending the partnership is anything but a matter of course for us. We are super happy that we have been able to rely on the Generali almost since the zero hour and hope for many more years together, "said the organizers of the Generali Open Kitzbühel, Markus Bodner and Herbert Günther.

The commitment of Generali in Kitzbühel has a long tradition: The traditional tournament and Generali are now linked by a partnership that has lasted for over three decades. After the cooperation between 1994 and 2006, during which the tournament had had some splendid times, this strong partnership celebrated a successful comeback in 2010 with the era around the tournament organizers Markus Bodner and Herbert Günther. Since 2015 Generali has also been back as the tournament's title sponsor.

Together, we will work significantly on the further success of the tournament. "Our partnership shows itself in many facets. In the quality of the tournament and the players, and of course also in the friendships that developed during this time, "said board member Arno Schuchter. In 2020, the Generali Open Kitzbühel is one of the few events that can take place due to the corona pandemic, and with spectators too. Schuchter is also proud of this: "This year we will all remember us for a long time - from the tournament organizers to the players and fans to the main and title sponsors. We keep our distance, but still celebrate tennis and its stars. For that I would like to take this opportunity to thank the extraordinary commitment of everyone involved, "said Schuchter.