Rafael Nadal fights for a worthy farewell: "Worth a last effort"
After his emotional cancellation for the French Open, Rafael Nadal 's fight for a worthy end to his career begins.
by SID
last edit: May 19, 2023, 12:31 pm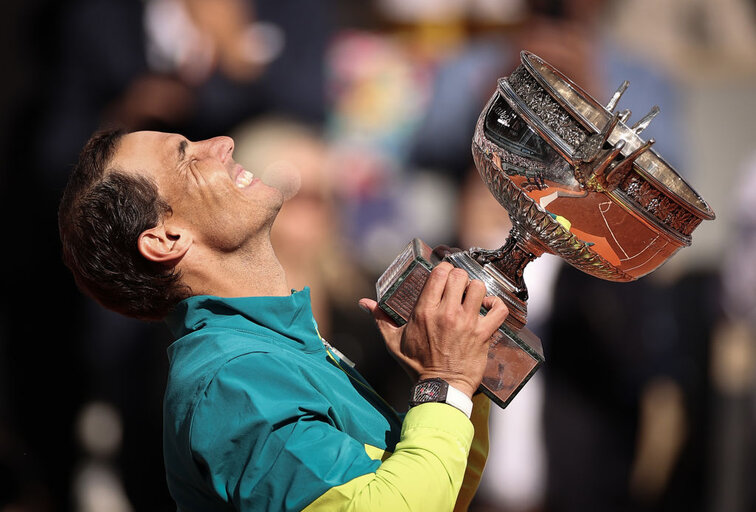 Icon Rod Laver paid homage to RafaelNadal , his opponents expressed good wishes and the major sports newspapers in Spain and France put the injured top star on their front pages: the day after the clay court king's emotional press conference, it almost seemed as if Nadal already had his career completed.
"Rafa, you're not gone yet and we miss you already," wrote Spanish Marca aptly. "A kingdom without its king", headlined the French L'Equipe and showed Nadal stretched out on the red ashes after one of his 14 titles in Roland Garros. A motif that will not exist this year after the cancellation of the top star. The almost 37-year-old Grand Slam record winner is now fighting for a worthy end to his great career.
Nadal wants to attack again
"I don't think I deserved it to end like this," Nadal said on Thursday. Retire from the tour injured after 22 years, 22 major wins and a total of 92 titles? At a press conference? That was out of the question for the exceptional talent.
Should his battered body allow it after a break, Nadal wants to attack again "at the highest level", this is "worth a last effort". Maybe in November at the final round of the Davis Cup in Malaga. However, priority should be given to 2024. His probably last season with the possible ending at the Olympics in Paris, in his beloved Bois de Boulogne, should not just be a farewell party. The insatiable wants to leave the big stage with victories.
"It would be gratifying to finish the journey the way I envision it," said Nadal, whose first absence from the French Open since 2004 opens up opportunities for the competition. "Even without being 100 percent fit, he would have been the favorite," said world number three Daniil Medvedev, who can now count himself among the co-favorites at the second Grand Slam of the year (from May 28).
Alcaraz wishes Nadal "good luck"
Nevertheless, it is not only Medvedev who would like more moments of glory from the former world number one Nadal. "I hope he comes back as soon as possible because he's a fantastic player, one of the best in history," said Medvedev. And Nadal's Spanish successor Carlos Alcaraz (20) also wished the Mallorcan "good luck" via Twitter.
It is "very painful and sad for everyone that you cannot play in Roland Garros," wrote Alcaraz. He hopes for Nadal "that 2024 will be a great season where you can say goodbye as the great champion that you are".
Australian folk hero Laver, meanwhile, hailed Nadal for his outstanding power, fighting spirit and dedication to tennis as unmatched in this day and age. "Relax, buddy," wrote the 84-year-old on Twitter: "I'm looking forward to seeing you again. On or off the pitch."