Series - Legendary Trainers: Niki Pilic - The German all-time captain
Germany won its three Davis Cup titles with him - but Niki Pilic was also successful in other places.
by Jens Huiber
last edit: Mar 26, 2023, 07:31 am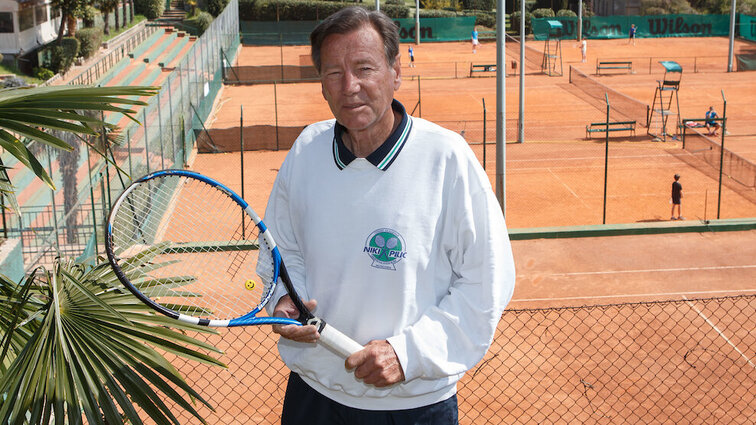 When the next edition of the traditional ATP Tour 250 tournament takes place at the MTTC Iphitos in Munich in a few weeks, it would be an extreme understatement to say that this man is a welcome guest: although that probably applies to Niki Pilic, no matter where he goes. But the long-time captain of the German Davis Cup team has a lot in common with Munich. And one can assume that tournament director Patrik Kühnen will not wait to serve the grand seigneur, who was born in Split in today's Croatia, the drinks himself in the VIP area or in the grandstand. After all, Kühnen had also become Davis Cup champion under Pilic.
Pilic, now 83 years old, not only won the most coveted team trophy in tennis as head of the German team. In 2005 he was the captain of the Croatian team, five years later Pilic was the advisor of the Serbian team. Pilic also played his part in the development of the greatest Serbian player of all time, Novak Djokovic, in the early phase: Djokovic trained in the star coach's academy in Unterschleißheim near Munich.
Pilic loses to Nastase in US Open final
Niki Pilic was one of the best tennis players in the world in the 1950s and 1960s, at a time when there was no professional tennis tour organized according to today's ATP standards. Pilic played at the World Championship Tennis (WCT) founded by American businessman Lamar Hunt, forming the so-called "Handsome Eight" together with Dennis Ralston, John Newcombe, Tony Roche, Cliff Drysdale, Earl Buchholz and Pierre Barthes.
Together with Barthes, Niki Pilic won the doubles title at the US Open in 1970. Three years later he was there in singles in the final, but lost to Ilie Nastase.
#IMG2#
At the age of 37, Pilic played for Yugoslavia in the Davis Cup, between 1961 and 1977 he had an overall record (singles and doubles) of 38 wins and 24 losses. After the end of his active career, Niki Pilic initially looked after Michael Westphal. Before he became a coaching legend as Germany's team boss with the Davis Cup triumphs in 1988, 1989 (each with the draft horse Boris Becker) and 1993 (with Michael Stich as the top man).