"Takes a lot of shine from your victory" - Andy Murray jokes with Liam Broady
Liam Broady has earned a place in the Australian Open main draw with three three-set wins in qualifying. Congratulations from compatriot Andy Murray were - well - idiosyncratic.
by Michael Rothschädl
last edit: Jan 16, 2022, 10:59 am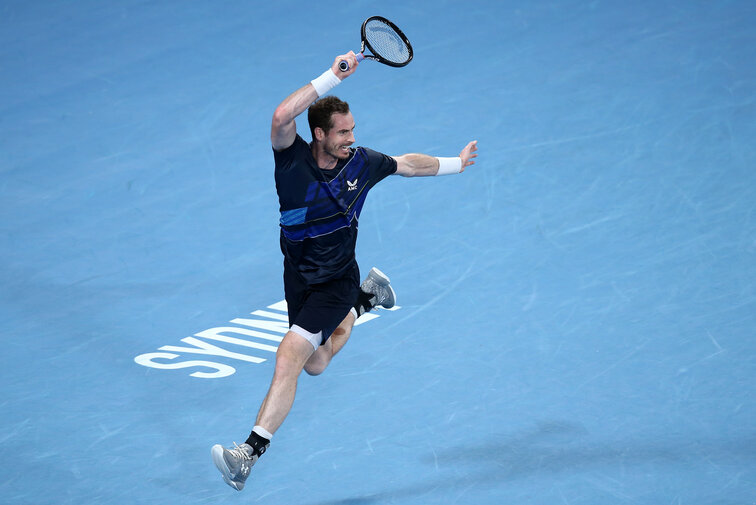 Actually, it looked as if the Brit Liam Broady would have to be patient for his first participation in the main draw of the Australian Open. The current world number 127. The tennis world was already hopelessly behind in the final round against the in-form Russian Roman Safiullin with 4:6 and 2:5. But then started the monster comeback - and finally qualified for the main draw of the first major event of the year with his third three-set win in the third match.
Undoubtedly a great success for the 28-year-old, who let his emotions run wild after converting match point, sank to his knees and first needed a few moments to get up for the obligatory handshake. Why did the Brit spend so long on the ground? Andy Murray knows the answer: "I think his coach ran to him to tell him that he had dropped to fourth place in the UK live rankings," said the Scot.
"Pathetic", "hard" and "touching"
The disappointment was why it took the 28-year-old so long to get back on his feet. "Pathetic", so the comment of the former world number one (whose translation is between "touching" and "pathetic", depending on the interpretation). Murray also had a comment ready for the congratulations from the official Australian Open Twitter account. "But he's dropped to fourth in the live rankings. Hard," wrote the Scot.
Finally, Murray drove his little campaign to his compatriot on Instagram. "I'm sorry to have overtaken you in the live rankings. Takes some of the shine from your victory. Still, well done," Murray said there. Of course, the comments of the three-time Grand Slam winner should be understood with a wink.
The background is as follows: Murray placed ahead of compatriot Broady in the world rankings when he reached the final at the ATP 250 event in Sydney. He now has the opportunity to fight back at the Australian Open, meeting Nick Kyrgios in round one. It remains to be seen whether similar comments can be expected from Broadys.