Taylor Fritz: The apple doesn't fall far from the tree
Taylor Fritz has seen a rapid increase in performance this year. Why the American is now eighth in the ATP ranking.
by Victoria Moser
last edit: Oct 11, 2022, 10:48 pm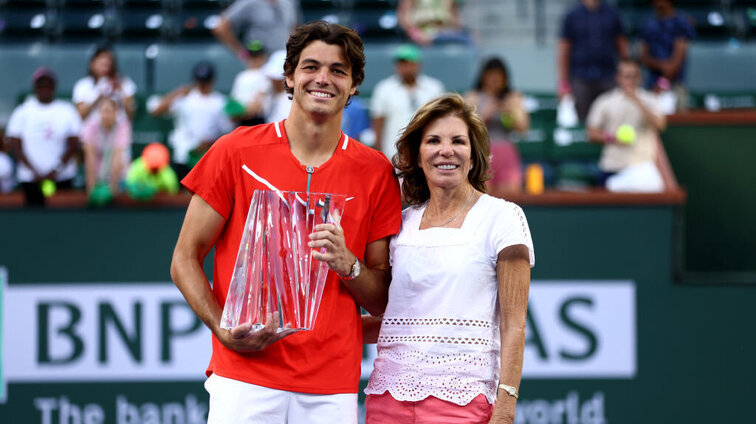 Good things take time. The fact that Taylor Fritz has the potential to be at the forefront has long been said of the American. This potential is finally being fulfilled in the current season.
Fritz's last coup took place on Sunday at the ATP Tour 500 tournament in Tokyo. On the way to the title he defeated James Duckworth, Denis Shapovalov and Frances Tiafoe in the final (7:6, 7:6). He won his fourth championship on the ATP tour. Three of them were added this year. He also triumphed in Indian Wells, which counts as a Masters 1000 tournament, and in Eastbourne (ATP 250) on grass in 2022. His prize money is almost nine million euros.
Fritz inherits the tennis gene
Taylor Fritz's success doesn't come from anywhere. Both his father and mother were involved in the sport of tennis. His father Guy Fritz played tennis and was active as a coach. For his commitment, he was named "US Olympic Development Coach of the Year" in 2016. He helped his son win the junior US Open in 2015 and has supported many young talents over the years. His mother Kathy May was a successful tennis player in the 1970s and won seven singles and four doubles titles in her career. Her best world ranking was 10th place. Mother and son were/are now in the top ten.
In one respect, however, Taylor Fritz could soon surpass his mother: Kathy May never qualified for the WTA Tour's end-of-season tournament. Son Taylor is about to do so: he is currently seventh in the Race to Turin.