The impressive development of Daniil Medvedev
Daniil Medvedev recently won the title at the ATP Masters 1000 tournament in Rome. The triumph in the "Eternal City" symbolizes the impressive development of the 27-year-old.
by Nikolaus Fink
last edit: May 23, 2023, 11:25 am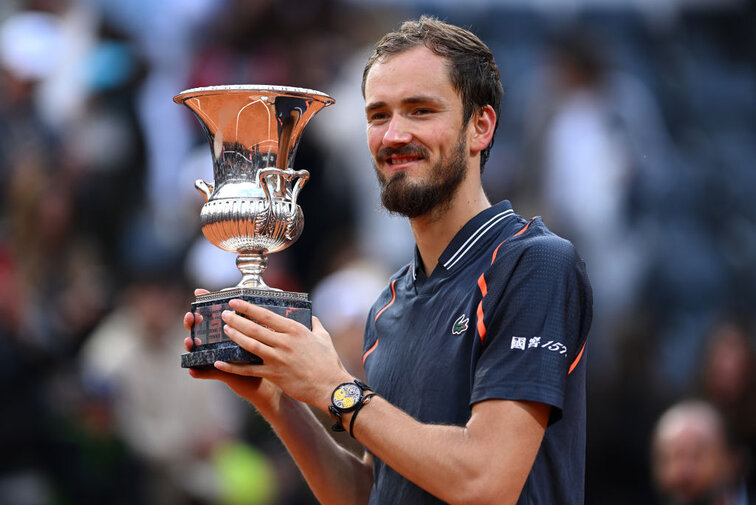 It wasn't that long ago that Daniil Medvedev had to say goodbye after the third round at the Australian Open. The defeat against Sebastian Korda marked the low point of a worrying development for the Russian. Because the calendar year 2022 had already gone anything but to his liking.
Medvedev then initiated his very personal turning point in February with the triumph at the ATP 500 tournament in Rotterdam. In total, the 27-year-old has scored 4120 points since the Australian Open - more than any other player. For comparison: World number one Carlos Alcaraz "only" scored 3455 points in the same period. Unsurprisingly, Medvedev is currently leading the "Race to Turin".
How well Medvedev will perform in 2023 can be seen above all in his results on sand. If the "terre battue" was still a red rag for the Russian in the past seasons, he is busy collecting points on this surface this season. In Rome, Medvedev was even able to celebrate his first tournament victory on ashes.
At least since the triumph on Sunday, Medvedev has also been one of the favorites at the French Open in Paris. Last year, the 2021 US Open winner at the Bois de Boulogne reached the round of 16. And then Medvedev was nowhere near as impressive as he is today.
rgmap