The man who made Boris Becker: Ion Tiriac turns 80
Ion Tiriac was the man who made Boris Becker a global brand. Romania's first billionaire turns 80 on Thursday.
by SID
last edit: May 09, 2019, 06:41 am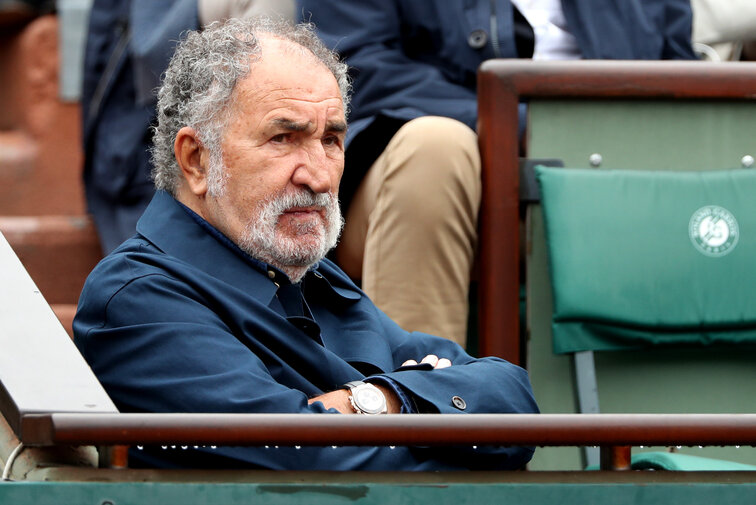 Ion Tiriac watched the goings-on for five hours, of course he kept his expression on his face, he never did. Five hours in which Argentina's talented tennis poet Guillermo Vilas had chased an adolescent with baby fat and red hair under the scorching sun at the Monte Carlo Country Club across the court, from right to left, forwards, backwards, further and further. "I almost vomited," Boris Becker will later remember. The 17-year-old Leimener of all time was only 15 at the time, and Tiriac was also significantly younger. On Thursday (May 9th), Becker's former money printing machine turned 80.
When the ordeal is over, Tiriac goes to Günther Bosch. "Günther, we have to talk to the parents. The boy will win Wimbledon," he says. A little later, sometime in autumn 1983, you meet at the airport hotel in Frankfurt / Main. Tiriac, the manager with the license to raise funds, Bosch, who unconditionally dedicated himself to the red-haired boy as a trainer, and the Becker family from Leimen: father Karl-Heinz, mother Elvira and their son Boris. That day Karl-Heinz and Elvira lose their second-born to Germany
Tiriac on Becker: "There won't be another one"
And so the story started. Becker played, Bosch trained, Tiriac procured contracts and money. Romania's former ice hockey international became a stroke of luck for German tennis. Becker cashed, the German Tennis Federation cashed, and Count Dracula with the black lion's mane and huge mustache cashed in properly. He got ten percent of the prize money, 30 percent of the advertising revenue, but Becker easily became a multimillionaire. "Someone falls from the sky," said Tiriac about Becker: "It doesn't exist again."
Maybe not someone like Tiriac either. He comes from Kronstadt in Transylvania, where he stood on the assembly line of a ball bearing factory. He lived on the same street as Günther Bosch, who also worked in the same factory. Bosch liked to play tennis well, Tiriac not so much, he was more into ice hockey at first, so his colleague gave him a few coaching lessons.
Both went to the tournaments in Romania with an old Java motorcycle, "all year round until the frost came," recalls Bosch, who is two years older. Tiriac later played the Davis Cup for Romania, although not blessed with a god-given talent, and together with his compatriot Ilie Nastase won the 1979 French Open double competition.
Ion Tiriac did not have an easy start in life, when he was nine his father died, from then on he was the "man" in the family. He had to fight his way up alone, and he did it quite consistently. He owns apartments in New York, Paris, Monte Carlo and London, car dealerships, banks, private jets and real estate companies, and there are almost 500 polished classic cars in his garage.
Tiriac is still up there
He has always shared a large part of his wealth with those who are not on the sunny side. Many orphanages in his homeland bear his name. In Bucharest, he built an ice hockey stadium where children and young people can train and play for free. He is currently building 500 kindergartens in his home country and is also benefiting from a decree by the Romanian government that subsidizes each of these institutions with 500,000 euros.
In Bucharest you can often see Tiriac at the wheel of one of his classic cars. Sometimes, when the weather is particularly nice, he fetches the right baby from the garage, for example the black Cadillac, which Evita Peron used to drive up to Casa Rosada. He is and has never been without controversy, and the annual bear hunt to which he invites friends and business partners to his territory in northern Romania drives animal rights activists all over the world onto the barricades.
At 80, Tiriac is still busy, even in sports. One of his companies is organizing the Tennis Masters in Madrid, and in October he is also co-organizing a golf tournament in the Spanish capital for the first time.
According to the Romanian media, he is currently said to have a new partner at his side, a 37-year-old former gymnast. One day Tiriac wants to die "definitely as a Romanian". Before that, he'll definitely make some money.