Dennis Novak happy to return to Bresnik: "Since I've been with Günter, a lot has changed again"
Dennis Novak didn't get a point at the Davis Cup in Innsbruck - but he still sees himself on the right track, thanks in part to his return to Günter Bresnik. Jurij Rodionov is now training again in his place of work.
by Florian Goosmann
last edit: Nov 30, 2021, 01:55 pm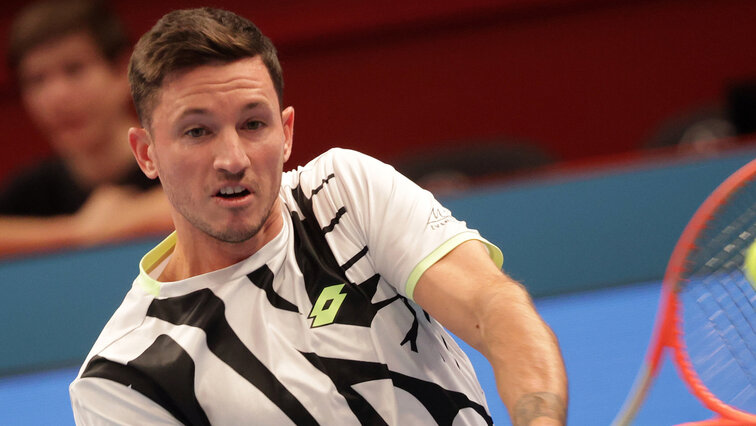 One defeat against Novak Djokovic, then one against Jan-Lennard Struff: Dennis Novak had to bite the bullet of the team's number 1 at the Davis Cup in the absence of buddy and top man Dominic Thiem. But even if it didn't come as a surprise: Novak is on the rise again.
Günter Bresnik had already explained this recently , and Novak himself congratulated himself again on his return to the star coach in the southern part of the city. "That was definitely the right step, I have no regrets at all. Since I've been with Günter, a lot has changed. Even outside of tennis, "he said loudly at krone.at .
Novak had originally left Bresnik's academy and followed Wolfgang Thiem, who in turn saw a campaign of revenge against himself .
Novak, recently also the father of a little son ("It's good for me to grow up, mature, to take responsibility"), also has a strong training partner at Bresnik in Gael Monfils, who is obviously not stingy with tips. "He tells me things that he has noticed when we have trained, I can certainly only benefit from that," said the world number 118.
Jurij Rodionov also separates from Wolfgang Thiem
Who will now also get to see fellow countryman Jurij Rodionov more often. Rodionov got a surprising point against Germany and, as the Kurier reports , has meanwhile also said goodbye to Wolfgang Thiem.
"I think I worked with Wolfgang for a year and a half and I didn't have the feeling that my tennis was going in the right direction," said Rodionov. "As in any sport: the first person who has to believe is the coach." Even though he is not interested in the external circumstances surrounding the theater between Bresnik and Thiem. He says, "I'm a tennis player and I want to be successful."
Rodionov is training again with Bresnik, but there mainly with Gary Muller and on the tour with Richard Waite, so it is said. He will not travel to the usual preparation location in Tenerife. Dennis Novak, however, will also be getting fit there for 2022.