"Extraordinary skills" - Jaden Gil Agassi wants to become a professional baseball player
Jaden Gil Agassi has famous parents, but is not interested in tennis. The 18-year-old son of Steffi Graf and Andre Agassi is considered a great baseball talent. The career should pick up speed in autumn.
by SID
last edit: May 29, 2020, 01:16 pm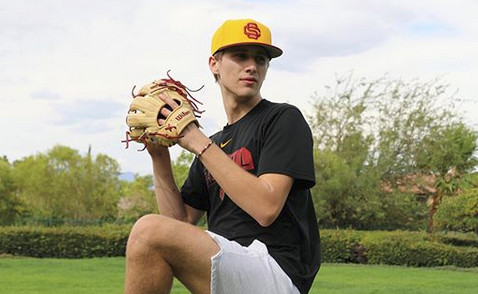 Of course, he once played tennis. "Against the garage wall for an hour, then he was almost tired of it," says Andre Agassi in an Instagram video. Jaden Gil, the firstborn of Agassi and Steffi Graf, had and has nothing to do with the sport that made his parents world stars. For that, he is at the heart of US sport, the proud father reveals: "When he was five, he picked up a baseball and has not let go of him since."
In October, Jaden Gil, with his blonde mane and light eyes, is an unmistakable image of his mother, 19 years old, and until then his baseball career should really take off. In the summer, Jaden Gil leaves his parents' property in Las Vegas in the direction of Los Angeles, where he will play for the Trojans at the famous University of California from autumn. It's a prestigious address, since its first play in 1947, the USC teams have won the College World Series twelve times.
If the tall and versatile Agassi junior is doing as well as before with his strong right arm, it is theoretically conceivable that one of the 30 teams from the famous Major League Baseball (MLB) will draft him directly. However, given the uncertain situation of the MLB in the corona crisis, it is probably not, especially since Jaden Gil is also recovering from the consequences of an elbow operation in June 2019.
Using the so-called Tommy John method, the Agassi son was replaced with a torn ligament on the ulna by another tendon, the prognoses are good, the healing process takes about a year. This year is over, nothing should stand in the way of moving to LA.
"Excellent eye-hand coordination" - like Papa Andre Agassi
Jaden Gil's youth coach Evan Greusel, who looked after the young man in the minor league, attested to him "excellent hand-eye coordination and exceptional skills as a pitcher (thrower) and batter (batter), plus fast legs").
"At some point," believes Agassi senior, "but he will have to decide on a position. That will make him even stronger." Jaden Gil has long been stronger than his father, a video of the two playing baseball clearly shows that tennis was the clearly better choice for the former number one in the world.
As a youth player, he made it clear how consistently Jaden Gil wants to go his own way without the help of his parents. His jersey did not have the Agassi name on it, but simply "rock". This is no longer the case today, the youngster no longer sees the big name as a burden, but as an incentive.
Like his sister Jaz Elle, by the way, in whose facial features with dark eyes you can see the father rather than the mother. The 17-year-old has already won several hip-hop tournaments - of course as Jaz Elle Agassi. Finally, nobility obliges.