Wimbledon: Novak Djokovic and Rafael Nadal - the way to the dream final
Of course, Novak Djokovic is also the big favorite in Wimbledon in 2022. But: What about Rafael Nadal - and his dream of the Grand Slam? We take a closer look at the two legends' journeys to the endgame.
by Florian Goosmann
last edit: Jun 24, 2022, 02:24 pm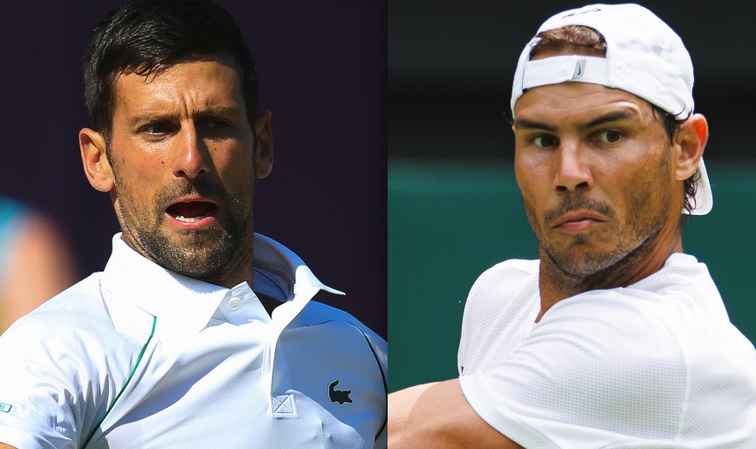 The Wimbledon draw was kind to Novak Djokovic. He waves from the top, even if he no longer does so in the world rankings. But Daniil Medvedev is not there due to the Wimbledon ban for Russian players, Alexander Zverev is injured.
Djokovic meets Soonwoo Kwon, number 75 in the world, at the start. The Djoker won the only encounter between the two so far last year in Belgrade. Should Djokovic win, the winner of the game between Thanasi Kokkinakis and Kamil Majchrzak would be waiting for him - doable.
In round 3, however, Miomir Kecmanovic would stand in the way, strictly according to the seeding list: He had recently made a lot of demands on Djokovic in Belgrade , Djokovic managed a miraculous comeback after a set and break deficit. Overall record: 2-0 for Djokovic.
In the round of 16: If Reilly Opelka, seeded 15th, would be a candidate, he would actually be a difficult opponent on grass due to his serve. But Opelka has not yet discovered the turf for himself: His record overall: 6 wins, 13 defeats, most recently at the start in Queen's and Eastbourne. His best Wimbledon result: Round 3 in 2019.
Things should get exciting in the quarter-finals: Carlos Alcaraz (5) is up for debate here (he had only defeated Djokovic in Madrid) or Jannik Sinner - or perhaps John Isner?
A seeded semi-final would be against Casper Ruud (3). The French Open finalist is also only on grass with a 3: 6 career record and recently declared that he would use it more for golfing anyway. Last year's semi-finalist Hubert Hurkacz (7) may well be the more likely opponent, especially since he had presented himself in turf form in the past few weeks (winner in Halle!). Last year he beat Roger Federer and only lost to Matteo Berrettini in the semifinals.
skywim2022
Rafael Nadal: His way to the final
That Rafael Nadal plays in Wimbledon: almost a miracle. Some expected his career to end after the French Open, but Nadal's new therapy on his left foot seems to be working . And Nadal in good shape at the invitation tournament this week. With his victories in 2008 and 2010 he proved that he can do Wimbledon; In 2019 he narrowly lost to Roger Federer in the semi-finals and thus missed a final against Djoker. And 2022?
Rafa starts against Francisco Cerundolo (ATP No. 42), who has a 3-3 win/loss record on grass. After that, the winner from the game between Sam Querrey and Ricardas Berankis would wait. Querrey is still remembered by many as Djokovic's victor in 2016, but has meanwhile slipped down the ranking and is only listed in 99th place.
The third round? According to the seeding list, Lorenzo Sonego (27), quite an expert on grass: in 2019 he won in Antalya, in 2021 he was in the final in Eastbourne and most recently he took a set from Berrettini in Stuttgart. Watch out Rafa!
In the eighth final, the reinvigorated Marin Cilic (14), Wimbledon finalist 2017; his two wins over Nadal (in nine matches) came from a submission success in Melbourne in 2018 and an early hard court match in 2009.
A quarterfinal? Could become a problem. Felix Auger-Aliassime (6), trained by Uncle Toni, would be the candidate, but Taylor Fritz, Dan Evans and Holger Rune are also lurking.
Finally, in the semi-finals, Stefans Tsitsipas (4), who has the game for grass but may not have understood him in full form, could wait. Matteo Berrettini (8), who recently won the titles in Stuttgart and Queens, must be the real favourite. So far, Nadal has won both games against the Italian - but each on hard court.
Conclusion: Nadal's path is the more difficult one - but still feasible. Can we expect a similar tennis treat as in the semi-finals in 2017, when Djokovic was ahead in five hard-fought sets?
For the entire draw of the men
wimmap