Number 1 in the world for 350 weeks: Novak Djokovic expands record
Novak Djokovic makes his 350th week at the top of the world rankings clear these days.
by Florian Goosmann
last edit: Dec 06, 2021, 02:21 pm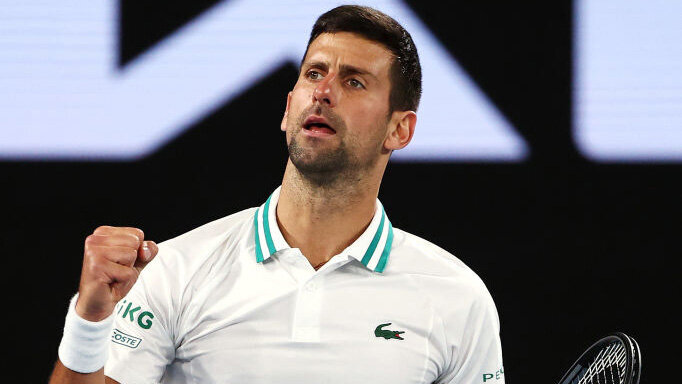 Djokovic continues to expand his lead as the record world number one. For 350 weeks, the "Djoker" has been at the top of the list as officially the best tennis player.
Djokovic first took the top position on July 4, 2011, when he replaced Rafael Nadal as a result of his Wimbledon victory. He held them straight for a year before Roger Federer came back to the top after his 2012 Wimbledon victory.
Federer, Nadal and Djokovic have always alternated at the top, from 2016 to 2017 Andy Murray also had a 41-week stopover at the top.
Djokovic: Consistently number 1 since 2020
Djokovic last took over the top position from Rafael Nadal on February 3, 2020, as a result of his tournament victory at the Australian Open. Since then, no one else has come past him (although the world rankings were frozen between March and August 2020 as a result of the corona pandemic and the elimination of tournaments).
Djokovic is the clear record holder with his 350 weeks: Behind him are Roger Federer (310 weeks), Pete Sampras (286 weeks), Ivan Lendl (270 weeks), Jimmy Connors (268 weeks), Rafael Nadal (209 weeks), John McEnroe (170 weeks), Björn Borg (109 weeks), Andre Agassi (101 weeks) and Lleyton Hewitt (80 weeks).
Roger Federer took first place with most weeks in a row
Roger Federer still holds the record for most weeks as world number one in a row with 237 weeks (February 2, 2004 - August 17, 2008). Djokovic comes to 122 weeks here (July 7, 2014 - November 6, 2016).
Djokovic had announced his 2-step plan last year , initially wanting to set the record for most weeks as the first in the world rankings and then the one for most Grand Slam tournament victories. Here he is currently on par with Roger Federer and Rafael Nadal with 20 pieces.
Will the number 21 follow at the Australian Open? Questionable: It still seems unclear whether Djokovic will be allowed to play in Melbourne.